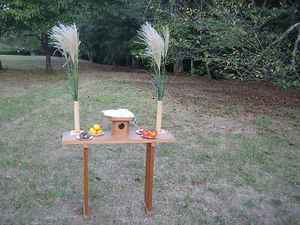 It was the most beautiful full moon in one year on September 22th we call it ''Chusyuu no Meigetsu''(the moon of middle of autumn) and the moon events were held everywhere in Japan.
We went to a event of Tsukimikai which was held by city museum in Hamamatsu.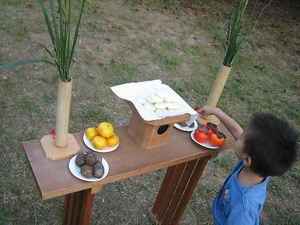 A part of a wide garden of the museum is a hall.
Tonight, we can enjoy listing the music by Shakuhachi(Japanese end-blow flute;made of bamboo) while seeing the full moon.
The person in the museum was preparing the offering.
It is a small, round dumpling that it is indispensable that made from the powder of the glutinous rice.also Japanese pampas grass that has grown at the field,taros,persimmons and chestnuts.
Do you know this offering for who? it is not for a god. The moon, the soil, and additionally, we wish to express our gratitude for making the best use of for various nature and existing yes, Thank you for the nature.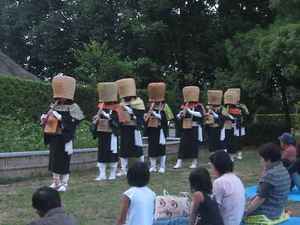 It has started the concert of the Shakuhachi.
It was the first time that I also actually listened to playing the Shakuhachi.
How the tone of the bamboo flute was wonderful was taught from my French friend before.
but I was not interested it,I guess most Japanese know Shakuhach but they don't have any chance to listen it and unknowledge about Shakuhachi.
Foreign countries might be more popular.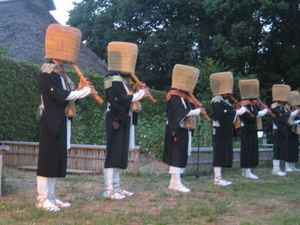 The root of the Shakuhachi has entered Japan from India via China in Nara era(710years ~794years) then it has evolved as a peculiar musical instruments to Japan.
The fashion of musicians in this photograph is Komuso(a Japanese mendicant monastic of Zen Buddhism) styles in Edo period.
in Edo period, the number of wars decreased, the samurai lost the employment, and it did a side job as a failed student, and it lived, and there was a person who became a Mukoso and had traveled.
The Mukoso blew the Shakuhachi at the street corner then got money to alive.
That hat is a ''Tengai'' it looks basket isn't it?
Tengai Thought that a minimum space is my space is reflected.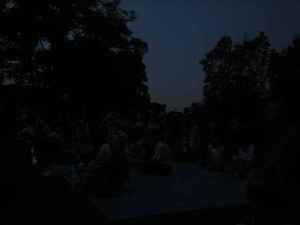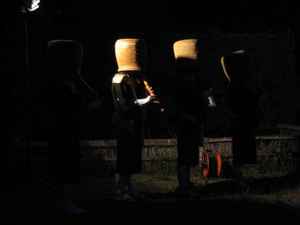 The Shakuhachi emits the sound of three octaves.
It is possible to change the tone when position of the mouth and the mandible is changed.
There are only about 180 traditional tunes composed for the Shakuhachi.
Most expresses natural scenery in seeming,the Crane makes the nest and waterfall flow etc.
actually, this sounds are not only natural scenery,can feel own mental conflict, anger, and spiritual darkness etc.
humm, deeply.