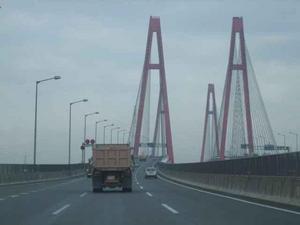 I went to my parents house with my familiy for spend new years day together.
Japanese highway used to be so expensive.
But from this year, government made reduce the price to 1000yen only for weekend and
holiday. (This rule is for car which carried ETCsystem.
ETC mean is Electoronic Toll Collection System.)
My car has ETC, when the day we used highway was holiday.
I expected the price might be 1000yen...!??
However, it was 2500yen. I don't know why, but we used pay 12000yen!
Compare to 12000yen, it still cheap, well, all right

When we take on the highway, go throught Hamamatsu,
At first, there is a beautiful scenery of Hamanako( the name of lake).
And then, there is an industrial area which represented Nagoya and Yotsukaichi in Japan,
Toyota is the most popular industrial company in Nagoya.
Yotsukaichi is also famous as a chemical industrial area from long time ago.
There are huge tanker and many chimney of factory at harbor.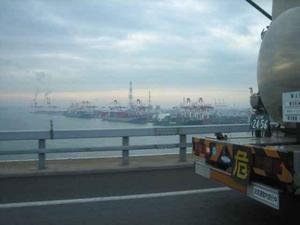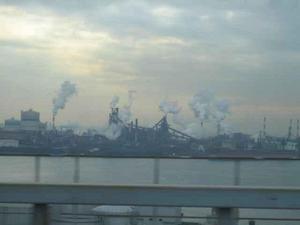 I think service area is so fun in Japan in these days.
People who works at service area make big effort to show their local originality
for make tourist want to stop at service area .
"Kariya highway oasis" is the most famous service area in Japan.
Here is in Aichi prefecture.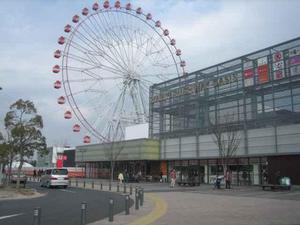 There is a ferris wheal, but here is not amusement park.
There is a ferri wheal, hotspring, and huge souvenir stores in big service area.
It looks like kind of theme park.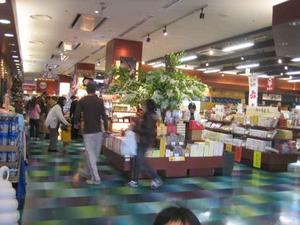 There are many souvenir stores.↑
This service area is placed on Kariya, there are not only Kariya's local products,
but also Nagoya, Ise and Hamamatsu's local products.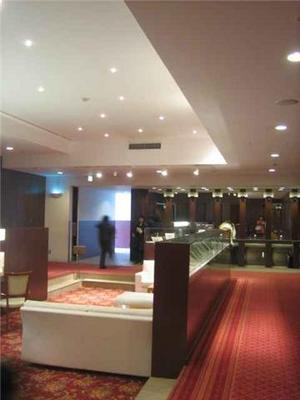 ← This is very famous luxury
bathroom!
I think this bathroom is the best in Japanese service area.

Because of the floor has beautiful rug,
there is a big-name brand sofa.
Anyway, so wide space,
washstand and powder room are like
gorgeous hotel.
when women tired for long journey,
it makes us relax.
By the way, man's bathroom' s design
was like futurism.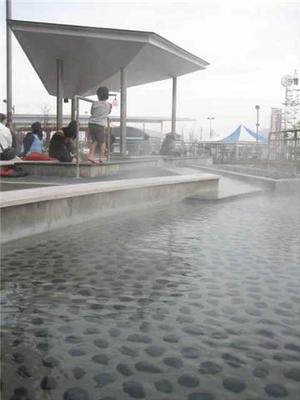 ← This is natural hotspring.
This is outside, only for foot hot
spring.
We called " Ashiyu".
Fee is 100yen.
There are many "Ashiyu" in Japan,
but we seldom find "Ashiyu" at
service area. so here is popular.



We sould had to drive more and more, we couldn't take hotspring so long.
We just drunk free tea (!) at cafe, and continued our journey again.
Pass through Aichi prefecture, here is Mie prefecture.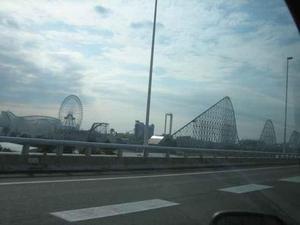 We can see "Nagashima supa-land"(amusement park) soon.
They have famous roller coaster which may speed is 153km, fallen down from
97m hight at the falling angle of 68°


I don't want ride on this ever never!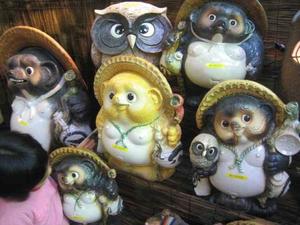 We went through Iga, Kouga( here is famous for Ninjya) in Mie prefecture.
We took a rest at Otsu in Shiga prefecture.
They have the biggest lake which name is Biwako.
There is a service area around Biwako.
When we went to restaurant for lunch, we found this ornament near by entrance.
This area is famous as town of pottery.
It called "Shigaraki-yaki".
This raccoon dog is represented on Shigaraki-yaki.
There is no japanese who don't know this raccoon dog.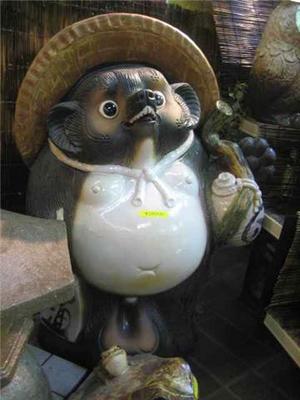 He holding sake bottle with one hand,
holding bankbook with the other hand.
Lucky ornament!
Normally, they are placed on entrance
at Japanese restaurant.
Do you want to buy???

We ate soft ice cream at Otsu service area.

There are lots of soft ice cream with local original taste ones at Japanese service area
from long time ago somehow.
Peach, muscat grapes,milk taste and so on.
There is a taste of Boysenberry which grown at this area.
This was yummy!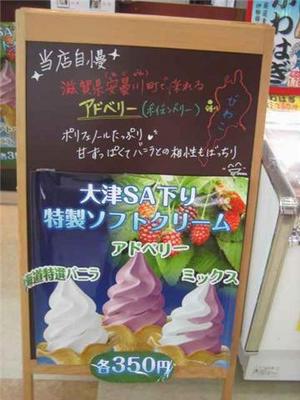 We should had to drive more until get to Hiroshima prefecture.
After Otsu, kids were fall in asleep. Terefore we didn't take a rest anymore.
550km from Hamamatsu to Hiroshima.
550km seems long long distance for us. But for example,
it is not so faraway for Franch or American people their country has huge land.
Next time I will introduce yours to Japanese new years day at Hiroshima prefecture.
Have a great new years day!!