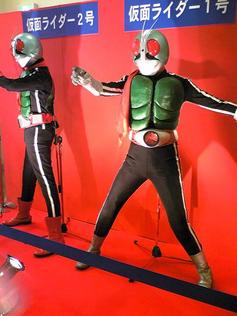 Do you know "MASKED RIDER"?

It is the hero's story which was broadcasted in Japan in 1971.
We can watch

it still now since it is serialized.
Accidentally I took the pictures

of the original costumes of it because they
were exhibited at a mall in Hamamatsu city.

The costume at right side is the first Masked rider.
and left one is the second.
Their faces very look like the grasshoppers.TOTEMO BATTAPPOI DESU.

I could not like Masked rider because of their appearance.

But my brither and the neighboring boys,
all they have desparately watched
the TV program.

TEREBI NI KUGIDUKE DATTAKOTO WO OBOETEIMASU.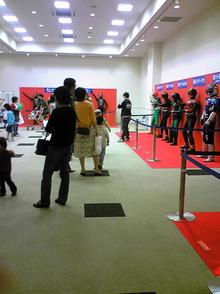 The exhibition was not so big.
Entrance fee was free
and only few people were there.
NYUJOU MO MURYOU DESU.
But
that mood attracted me.

WATASHI NO KOUKISIN WO SOSORIMASHITA.
Now Japanese animation and hero's story are famous through the world, but
They were limp like this at the beginning.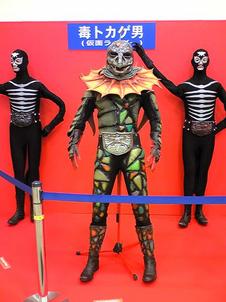 I said it was limp, but the story is deep unexpectedly.
This would be the reason for their popularity in both Japan and the world.

This is an enemy, a venomous lizard man.
The 2 black men forward a a venomous lizard man are subordinates.
There are them in large numbers.
HONTOU HA MOTTO IPPAI IMASU.

An outline of Masked rider......
The hero is Takeshi Hongou who is an excellent scientist and also a racer.
One day, he was abducted by a evil organization and
they remodelinged his body

, and
He got an abirity of grasshoppers.
KAIZOUNINGEN NI SARETE SIMAIMASHITA.He succeeded to get out
with Dr.Midorikawa, who were also abdocted.
Dr.Midirikawa was assassinated by a monster from that organization.
DASSYUTU NI SEIKOU.
Takeshi desided to fight against them by
transforming hisself using
wind energy.
ENERGY WO UKETE HENSIN.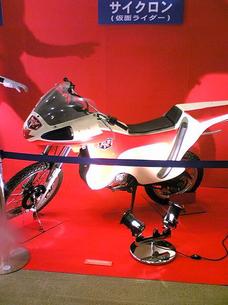 That's why Masked rider is the rider.
Takeshi's motor cycle was remodeled-bike made in Japan.
My husband loves motor cycle, and
he says he loved the riding scene of
masked rider
when he was a child.
RIDING SCENE GA DAISUKI DATTA TO IIMASU.
Japanese riders were increasing rapidly at that time as opening to the public
of new models from HONDA, Kawassaki and SUZUKI.
This TV program for children may have reflected the society.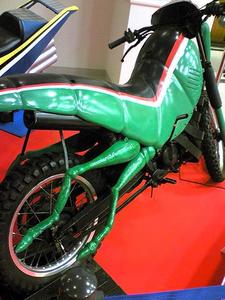 When we look it closely, its looking is near to grasshoppers to the detail.

Even now I think motorcycles of off-road look like grasshoppers. I think
Masked rider might causes that feeling.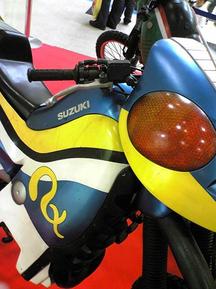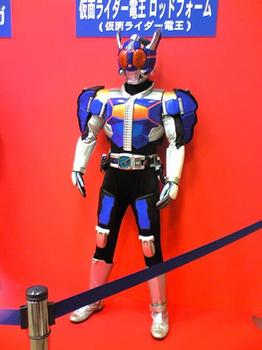 ←
Serialized Masked rider is still broadcasted today.
Can you guess which generation it is?
KOREHA NANDAIME DESYOU?

It is too many to find the answer out.
IPPAI ISUGITE WAKARIMASEN.

I think
Masked rider is awesome

because it is still popular among children.
SUGOI TO OMOIMASU.
Japanese animations and hero's stories tend to continue long such as
DORAEMON, POCKET MONSTERS and ULTRAMAN.
The reason why
they sare loved

for a long time
may be the result that they do not care for morality or preach, only
focus on the dream for children.
ITSUMADEMO AISARERU NOKAMO SIREMASEN.
Japanese Goods eBay Auction