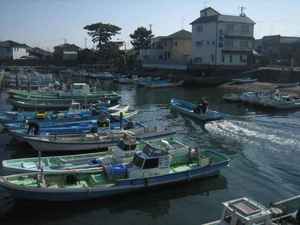 I went to Maisaka city for lunch with my family.
Maisaka is a port town where it can go from Hamamatsu by car in 20 minutes.
I have passed this city several times by car but never been visit because there is a fish market but this is not open to public so we can't but seafoods at there and there is not restaurants too.
I introduce you Maisaka city before why I visited this area this time.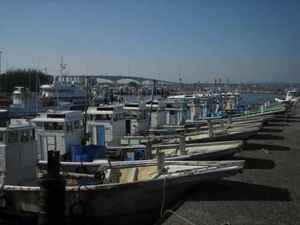 The Hamanako(lake) faces to the Pacific ocean.Maisaka is located in the part of there.
There is about Hamanako on this blog long time ago,if you want to know about Hamanako more,check it this →
Hamanako(Hamana lake)
During the Edo period(400years ago), the town prospered as Maisaka-juku, a post station on the Tōkaidō highway connecting Edo to Kyoto also there is the other famous thing is a fishing port.
The route has been left as the first in national road line now at there.
well, 400years ago people walked to traveling Tokaido spending many days but now it takes few hours by car!
The government of Ed had the 53 stayions in place along railway-tracks in Tokaido.
It is Fifty-three Stations of the Tokaido(Tokaido Gojusan-tsugi), and Hiroshige Utagawa was drawing in the Ukiyoe.
In the station of the 53, Maisaka counted from Edo and was the 30th station.
but there is not what it used to be in the old days.↓↓↓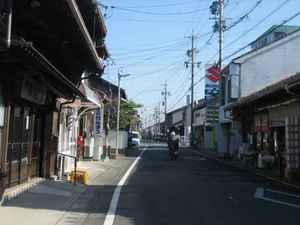 A part of old Japanese style of hotel(Yado) slightly left.↓↓↓
Samurai stayed at there!!
A more splendid building where only the feudal lord (samurai who was high-level) stayed is called the Honjin, and exists in a place left a little more from that Yado(hotel).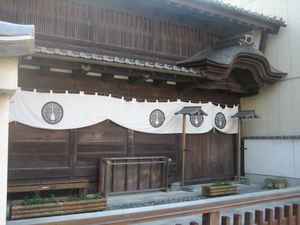 When it became modern and the traffic of the car increased, Tokaido was maintained to a wide and straight road now.
OK, get back to the main talking about the lunch!!
I have heard that there is delicious table d'hote restaurant which only local people know there at Maisaka,so we decided to go find it!
The restaurant is small,so tourist who past there by car can't find it easily.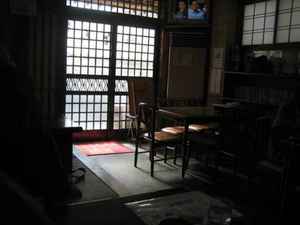 This restaurant has been opened here after World War Ⅱ.
It seems to be loved for a long time by the local people.
We ordered their recommend menu,
''Osashimi Teishoku''(Sashimi set), and ''Tonkatsu Teishoku''(a fried pork cutlet).
These were sooo good!!!!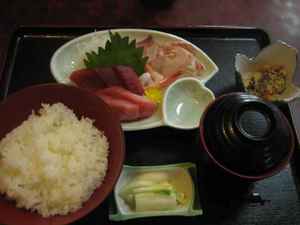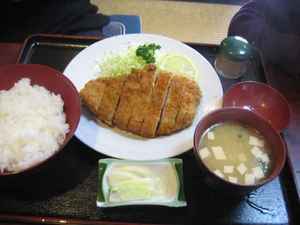 and more, ''Ebifurai Teishoku''(fried shrimps),my daughter's favorite one!! ↓↓↓
''Ramen''(nuddles) was good too.
All guests excluding us were local people.
mmmmm, we were full:))