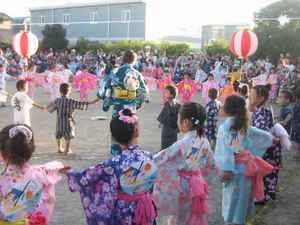 I joined the summer festival was held at the kindergarten where my daughter goes.

boys and girls were very cute

everybody wore ''Yukata'' so I took a nice picture

This time, tell you about ''Yukata''.
The yukata is clothes to conceal the nakedness when bathing by several people in the Heian era (About 1000 years ago), and "Yukata [bira]" at that time is clothes of the origin.
Yukata are typically made of hemp cloth or cotton,so it is easy to dry and strong in water.
It has been kept putting on after the bath and was for nightclothes(pajamas) even if it becomes an age afterwards.
Therefore, Yukata is not formal clothes today either.
moreover,putting on Yukata tidy body after the shower is beautiful

, so this is not good that smell sweaty and heavy makeup

There is a clean feeling, and wearing neatly is chic.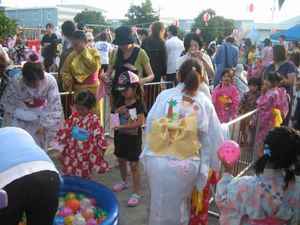 Today, people chance to wearing Yukata at the festival,Bon-odori and fireworks in the summer.not many.
at this festival in the kindergarten, all children came up with their colorful Yukata with enthusiastic. their teachers too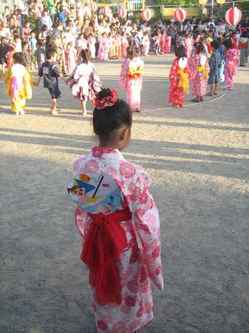 a girl who is running usually putting on T-shirt and jeans,but when wearing Yukata like this, it can create and the atmosphere that return to 1000 years ago.

Traditional clothes such as kimonos and yukatas still suit the Japanese.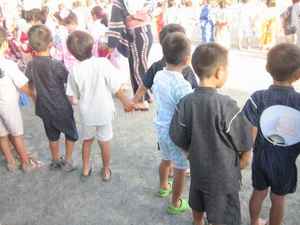 Boys were wearing that ↑↑↑
In recent years, more casual style Kimono ''Jinbei'' is popular though the boy also wore the Yukata of the same design as the girl in long long time ago.
Jinbei sets consist of a top and short pants.
It was originally a kimono used as man's work wear.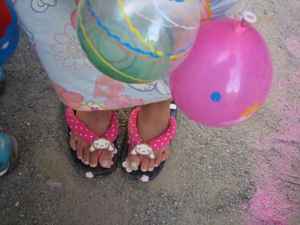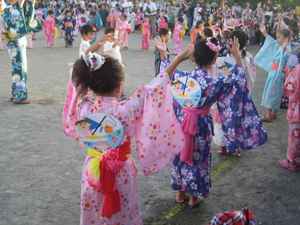 They were dancing(Bon Odori;name of dance) which learned at the their kindergarten.↑↑↑
both adult and children's Yukata is really nice, it feast for the eyes looks cooling in the summer.

If the person who wears Yukata is walking the town,it would be buoyant and cheerful in the town,and feel ''it's summer time''

So at the amusement parks and restaurants etc,they said ''the admission fee

is free when you wear Yukata'', ''a grass of beer

is free for people who wearing Yukata'' etc,they have their original services to call in customer.

People who are wearing Yukata as well as not wearing Yukata,all people is able to savor the summer. that is a Yukata.

If you visit to Japan in the summer season, you should try it on.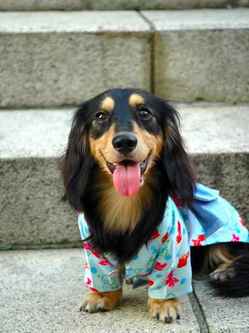 Hey wait a minute, what do you think? today's my fashion, looks nice??