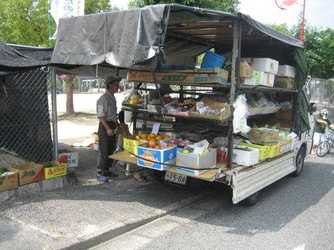 The grocery(YAOYA-SAN) car come to the park near by my parents' home every thursday.
It has come there since i was 6years old, so it keep on selling for 30years.
I have got married(WATASHI WA KEKKON SHIMASHITA) and live it other place,but i'm looking forward to get the grocery at this grocery car
(TANOSHIMI NI SHITEIMASU)when i go to my parents' home.
The man who on the photo is shop's owner.
30years ago,when all homemaker was young,he is called "young man"(ONIISAN).
He has still called young man(ONIISAN) even if he is the age that has some grandchildren.
I ask him "Can i take a picture for my brog?(SHASHIN WO TOTTE YOIDESUKA)"
he said"Really?I am also worldwide man,amn't i?!
and he was ashamed.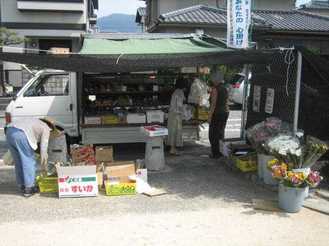 I widen keeping off the sun light, and I display corrugated cardboard at the entrance of the park,
and it is finished the market by a small truck.
There are some big supermarket,but the people who live in near young man(ONIISAN)buy many freshness vegitable(SHINSEN NA YASAI WO TAKUSAN KAIMASU).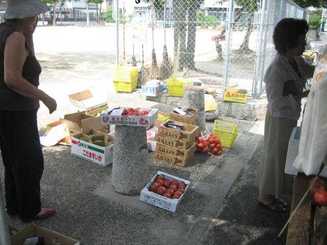 Items that young man "ONIISAN"buy is not lot,they grow up near hear easy going(NONBIRI).
So the shape of them are different size.
But they are taken care(TEMAHIMA KAKETE

) to raise with agrichemicals(NOUYAKU) a little bit,
it is safety and delisious.
And also it is best price(NANIYORI YASUI

)!As for the half price(HANGAKU)

to buy in supermarket.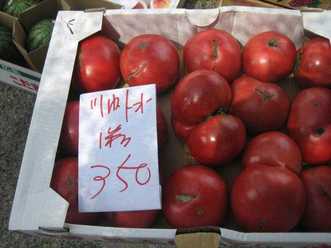 This is tomatos become to be fully rippened

and then harvested.
350yen for 1box.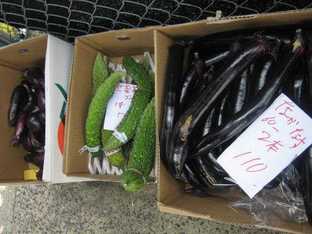 Eggplant

(NASUBI) and green color one at center is Bitter melon(GOHYA) of OKINAWA was introduced before

.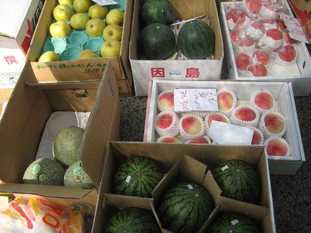 There are summer fruits

.
Water melon(SUIKA),Peach(MOMO) and Melon(MELON).
The fruit of yellow green is top of the photo is japanese pear(NASHI) is delisious for fall from summer

.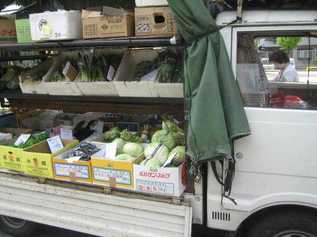 There are many vegitables on the rack of the truck

.
cabbage(KYABETSU),spinach(HOURENSOU),pea(MAME) and cucumber(KYUURI)...something like that..
There are potates(JAGAIMO) and carrot(NINJIN).
The japanese pickle(TUKEMONO) was made is delisious(OISHII)

and popular(HYOUBAN GA YOIDESU)

.
My father eat only his one.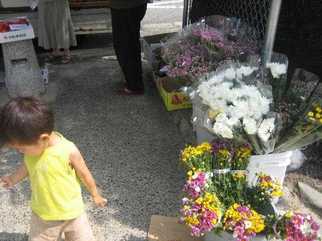 The flower is also available

.
This flower is all chrysanthemum(KIKU).
There are many people buy the chrysanthemum regularly to put them on tomb(OHAKA) and buddhist altar(BUTSUDAN).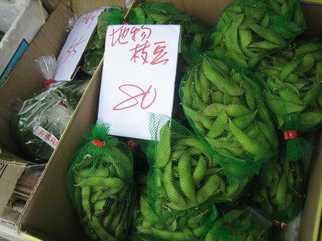 This is green soybeans(EDAMAME).
It is standard vegitable in summer(NATSUYASAI).
I boil w/salt it as it is.
If they are harvested until the color of them change to brown,
they change to ingredient for bean curd(TOFU),soybean paste(MISO) and soy sauce(SHOUYU).
Their price are very cheap,so I buy it in large quantities.
I buy several summer vegitables are full of shopping bag.
I have the idea of recipe for 3days while choosing the vegetables

.
Good!Mangiare!Shall we enjoy dinner!

(MINNA DE ITADAKIMASU)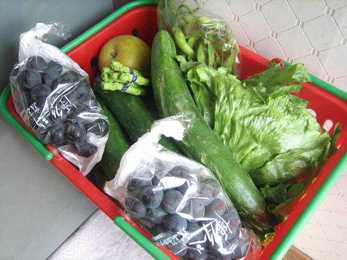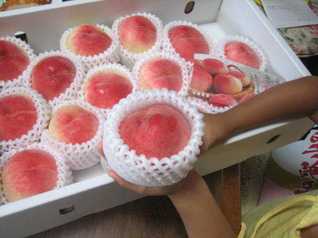 I bought 1box of the peach♪


Japanese peach is easy to be damaged since very a flesh soft and very delicate dividing of tooth sitting.
It is sweet and yammy(AMAKU TE OISHII DESU)

.