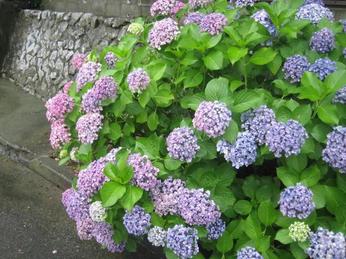 The rainy season (TSUYU)is coming in Japan now

.
This is the season that it is rainy(AME NO HURU JIKI) almost everyday for 2 to 3 weeks before beginning of summer

.
The rainy season comes from Okinawa where is located in the southwest area in Japan, and move to northern area gradually.
The rain of rainy season is soft, but it remains for several days. It is not like squall.
But last few years, the rush rains (HAGESHII AME) just like squall happen to a local target

.
It is said that it's because of influence of global warming

.
CHIKYUU ONDANKA.
Then, the rainy season is uncomfortable. but we can see hydrangeas blooming beautifully

when you go out with holding umbrella.
UTSUKUSIKU SAITE IMASU

.
I have heard that hydrangeas is the plant whose original country is Japan

, and it is also popular in other countries.
NINKI GA ARIMASU

.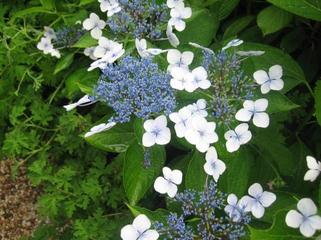 This is the hydrangeas in my yard

.
Its name is "hydrangea macrophylla forma normalis" and this is typical original type of hydrangeas.
Many other hydrangeas having various colors and forms were born from improvement of this original type.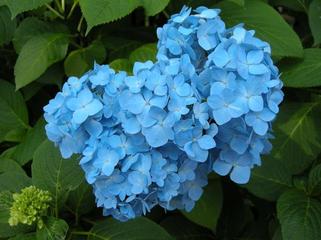 This blue color of hydrangea is beautiful

.
I think this color is suitable in rain (AME NO HI GA NIAU)rather than the hot days.
This is "fireworks in SUMIDA", a popular type.
HAYATTE IMASU

.
When I see it from far, it looks like stars

. It is very beautiful.
HISHI NO YOUNI MIETE,TOTEMO KIREI DESU

.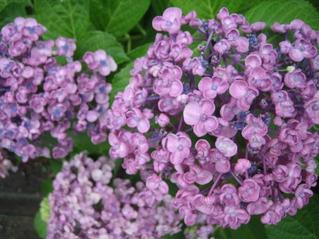 This is hydrangea macrophylla.
Hydrangea macrophylla live in Japan for a long time, and is also called "OTAHUKU".
"OTAHUKU" is the mask used classic Japanese musical drama, and shows women's face that has thick, round cheeks.


HOH NO MARUI JOSEI NO KAO DESU

.
The sky is like that everyday

while the rainy season.
MAINICHI KONNNA SORA DESU

.
I recommend not to travel in Japan (NIHON WO RYOKOU SURU)
while this season even if hydrangeas are beautiful

.
2weeks later, the nice season---summer will come

!


SUTEKI NA NATSU GA KURU KARA

!
The hydrangeas are very common plant in Japan.
ARIHURETA SYOKUBUTSU DESU

.
It grows by cuttage, so sometimes I receive it from neighbors

.
It doesn't need careful treatment, so it is often planted at parks

, temples

and schools

. I often happen to see blooming hydrangeas here and there.
The following photo of OTAHUKU is taken at hillback near a junior high school.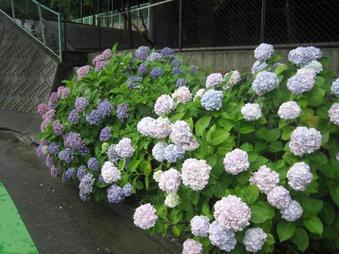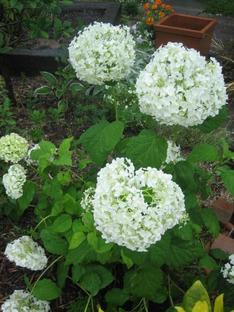 By the way, this is hydrangea arborescens in my yard

.
Hydrangea arborescens is not the Japanese hydrangeas.
The color of the blossoms change from lime green into white, and then back to lime green.
This is my favorite one

.
WATASHI MO DAISUKI NA HANA DESU.
Do you know this type of hydrangea?
MINASAN MO SHITTE IMASUKA?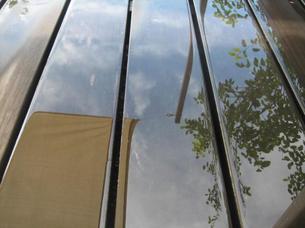 Wow, it is going to be sunny

!
HARETE KITA

!
The sunny while rainy season is rare and worthful(KICHOU DESU)
I've got to wash laundry

and clean the room

!


SENTAKU SHITE, IE NO SOUJI SIYOU!