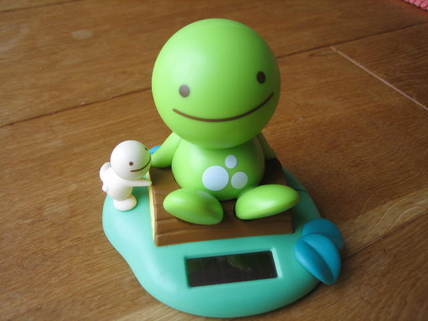 KONO OMOCHA, NANIKA SHITTEIMASUKA?
Do you know this toy?
My husband bought it for a child the other day.
This is made by plastic, and a neck and the both legs

of this doll move.
The neck moves slowly right and left,

and both feet wander around according to
the movement of the neck.
YURA YURA YUREMASU.
Power comes from a black, square solar panel.

When I put it by the window where the sunlight comes in, the day when the weather
is good keeps moving

waveringly by the power of the sun

.  
The speed of the movement of the doll changes by strength of the sunlight.
People are healed only by peacefully looking

at this movement.


KONO OMOCHA HA, HONOBONO "IYASHI GUZZU

"DESU.
This is heart-warming 'Healing goods

'

He pretended that this was for a child and bought it, but would he be tired that much?

IE IE (Nope)

)), he would be surely attracted by solar panel

.
WATASHITACHI GA CHIISAIKOROHA, KONNA OMOCHA ARIMASENDESHITA.
Because when we were small, there was not such toy.TATOEBA, (For example),
he played with these toys when he was little.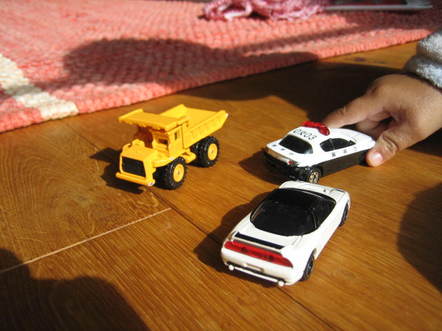 It is
TOMICA

born as the first real domestic minicar in Japan in 1970.
75% of the boy of six years or less who lives in Japan seems to have the minicar
of
TOMICA

.
SUGOI DESHO!!
From an old excellent car

to a domestic car running on the general way now.
Or there are a lot of kinds such as the truck series or the fire engine series.
The most of a family having a boy have this toy.
The Japanese male reader reading this blog will surely say.
"ORE MO TAKUSAN MOTTEITAKEREDO...
ITTAI DOKONI SHIMATTANO DAROU...?"
"Oh! I played this toy, too.
Though I used to have a lot of these toys.
Where did I put it?"
CHINAMI NI, (By the way), a white car in front side is
my most favorite

car NSX-R of HONDA


There is comfortable heaviness when I have this toy in
my hand

because this toy is made of
metal

.
The moving parts

such as suspensions and doors are made in all cars

.
The real design which reduced a genuine car to about 1/60 is also good.

The child learns the name of the car precisely.
APPARE!!

The earnest posture for this toy of the maker might be
the secret of the longtime seller



IPPOU (On the other hand)
, this is my 3 year-old daughter's


favorite toy.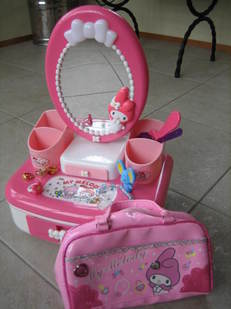 Sanrio


My melody Dresser


And,

the going out bag

KAIGAI DEMO Sanrio HA YUUMEI NI NARIMASHITA NE.
Sanrio became very famous

abroad.
I think that My Melody is prettier

than
Hello Kitty
for me.

Because there are a lot of overseas Sanrio fans


Let's fully talk some other time again.
MATA KONDO TAPPURI OHANASHI SHIMASHOU!!

A toy

, a toy

, a toy

,
OMOCHA, OMOCHA, OMOCHA
Toys increase when you have a child.
KODOMO GA IRU TO , OMOCHA GA FUERU
~
!!
What kind of toy

did you play?
DONNA OMOCHA DE ASONDE IMASHITAKA?
If you have a child.
What kind of toy

does your child like now?
OKOSAN GA IRUKATA HA,
OKOSAN HA IMA DONNA OMOCHA GA SUKI DESU KA?
My 3 years old daughter

was pleased with such a thing
till she noticed the existence of the toy. (When she was around 1 year-old?!)
KONNA OMOCHA

DE YOROKONDE IMASHITAYO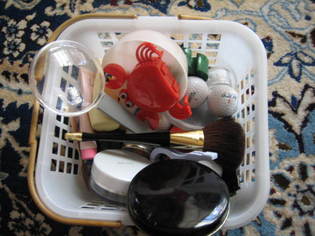 Japanese Goods eBay Auction