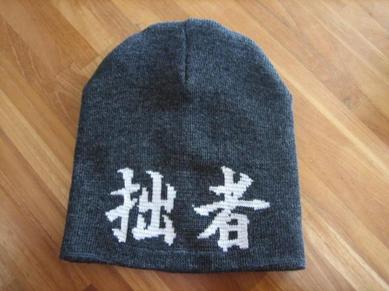 I wrote it about a story related to the
KANJI
in my blog the other day.
Such a thing has been sent to me from my friend.
KONNA MONO GA OKURARETE KIMASHITA.

It's called a
Samurai cap.

A samurai seems to have already become one of
the international words.
(KOKUSAITEKI NA TANGO)
It is the samurai, who served the nobility in old days,
Under influence of movies such as
"seven samurais"(SHICHININ NO SAMURAI")
or
"a last samurai,"
The taste and way of life came to attract attention abroad

.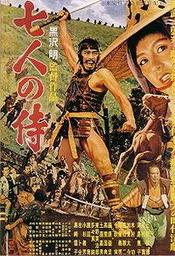 It is popular in Japan for around 1 year to use
"the samurai words"
by
the email

of the mobile telephone

.
For example,TATOEBA,
"Surprised!!" → 『これはしたり』"KOREHASHITARI."
"I am so happy!!" → 『恐悦至極』"KYOUETSUSHIGOKU."
As for
『拙者』 "SESSHA"
written on my knit cap means
『私』"I"(WATASHI).
The feeling with some heaviness of words gives a cool impression
and wants to surely use it.
It is cool.CHOTTO KAKKOII DESU.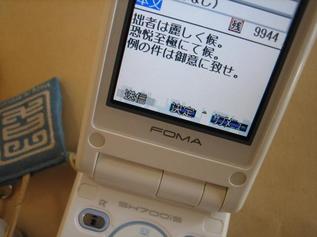 To the background (HAIKEI NIHA,)
where the samurai word becomes popular.
A game

and the comics

that described the world of the samurai became a hit.

So the youths who had friendly feeling toward the words of a samurai used in those works having increased

.
In addition,
"TSUKATTE MITAI BUSHI NO NIHONGO"
(Japanese of samurai who wants to use.)
(Written by JIN NOBI)
This book

was read by many young women

.
TAKUSAN NO WAKAI JOSEI GA YOMIMASHITA.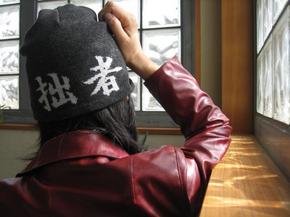 I use this knit cap habitually.
SASSOKU, AIYOU SHITEIMASU.
But, with a Japanese fellow, we both understand a meaning of
"SESSHA"
immediately


So, I show a kanji part in rear and put it on.

I am a shy person.

(HAZUKASHI GARIYA DESU.)
When it is foreign countries, it is good because people do not
understand the meaning of the
kanji.
There are another 2 kinds of this hat with the kanji of
『黙』"MOKU" and  『愛』"AI"

(LOVE in Japanese).『黙』"MOKU"
means
"Be Silent!!(DAMARE)"
and
"Shut your mouth!"(SHIZUKANI SHIRO)
in Japanese.
It's also like
"I'm keeping silence."(DANMARI)
It is like mysterious, and sounds cool.
NANKA, KAKKOII DESU.

If you are interested in this knit cap, please go to this site from here. ↓
http://shop.ebay.com/merchant/sweep6458_W0QQ_nkwZQQ_armrsZ1QQ_fromZQQ_mdoZ
Japanese Goods eBay Auction