It is a work named PIPEROID that a Japanese artist thought about, and the first photograph is put together of the paper kit.
The big one is called ''Tengu-king'' and the small one is ''Tsubu-Tengu''.
(Tengu; the face is red and the nose is long in the fairy in the mountain that appears in the folk tale of Japan.)
Cylindrical paper that attaches this and 5 colors is actually cut with scissors and assembled.
There is some holes in cylindrical paper, it is possible to combine by piercing parts cut in the hole with scissors.
The part of the hole can be moved by completing it like the joint.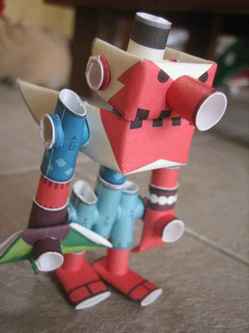 the neighbor bought it for my 5-years old daughter but it was too difficult to her, so my husband was happily made it.
In short, I wanted to inform everyone that a complete work was made only by scissors so much.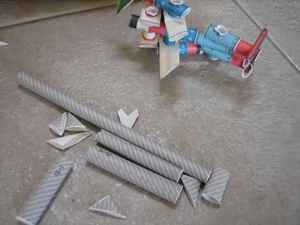 I think that the conception that invents various attainments from paper is very Japanese.
Because, ''Origami'' is exactly the play for kids since long long time.↓↓↓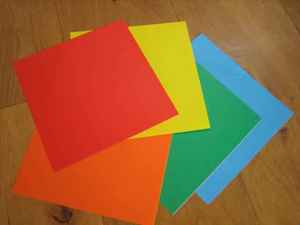 These are ordinary ''Origami''. It is a square of 20 centimeters, and the back is white.
Origami is about 100 yen per 30 single-unit.
The variety of recent origami is abundant.↑↑↑
The illustration beforehand and the pattern are drawn,completes if it folds along the manual, and shape of the turtle and the penguin, etc
Children get tired at once though such a paper folding seems to be fun momentarily.
I think that "It is possible to do only by one way" is not fun for children.
A lot of books on the paper folding are published, and the net has the site where how to fold is taught in animation.
However, there is a manual in that when the paper folding is mostly bought.
Let's try it!!!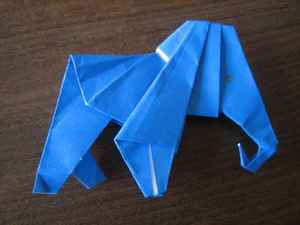 a elephant. it took 3min.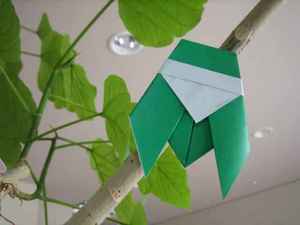 a crane.2min This is folded as becoming two-tone by one sheet of paper.
This is my daughter's work.
A light blue blouse and pink skirt consists of the paper folding respectively.
Even if parents do not teach, she makes it by herself before one is aware.
The paper folding that can make a three-dimensional work from just one sheet of paper infinitely expands child's imagination

.
Japanese Goods eBay Auction