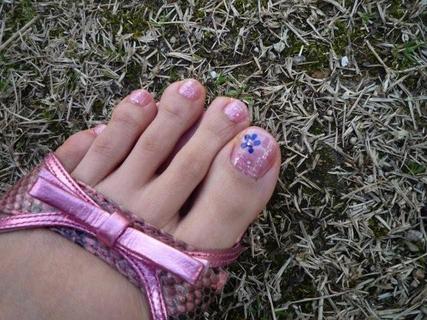 Isn't it pretty? KAWAII DESHO.


But unfortunately it is not my foot.
ZANNNEN NAGARA WATASHI NO ASHI DEHA ARIMASEN.

This is a foot

of my friend.
She enjoys

nail art routinely.
Because in this blog, I get a comment like this sometimes.
KONOYOUNA KOMENTO WO TOKIDOKI ITADAKIMASU.
"I want you to introduce Japanese nail art."
They say, "Japanese nail art is Japanese splendid art!!"
However, I do not do nail art.
TOKOROGA, WATASHI HA NEIRU A-TO WO SHIMASEN.
I am busy with housework and child care,
I don't get enought time

to do it.
JIKAN GA ARIMASEN.
Besides, the beautiful manicure
crumbles off by dishwashing.


BORO BORO NI NARIMASU.

Therefore, (DAKARA)
I asked my friend,
to show me her finger and a tool of the nail art.
For a man, it may be a trifling thing, but,
let's just take a look at

the world of the nail art

together.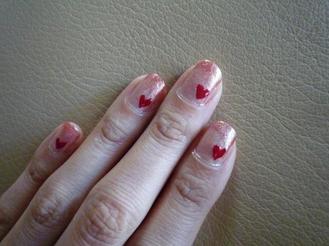 As it goes to the tip of the nail,
the gradation that comes to have dark color.


It is called gradation nail.
She drew the red heart

by hand.
Because it is considerably careful work,
and it is hard to repaint it,
so it is like a gambling.
IPPATSU SHOUBU DESU.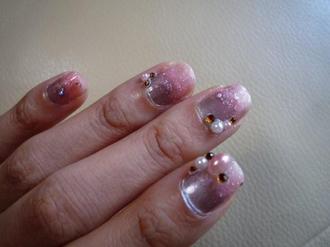 This is the nail art that put beautiful
lame

and beads decoration on pink manicure.
To paint different design for each finger nail is
popular
, too.
NINKI GA ARIMASU.






By the way, (TOKORODE)
she is not a professional nail artist.
She is a common office worker.
KANOJO HA FUTSUU NO KAISHAIN DESU.
In Japan, many of the japanese woman can do the nail art like this.
There seem to be many Japanese women
skillful with their hands.

TESAKI GA KIYOU NA HITO GA OOI DESU.
And they do like doing such a detailed work like this.
She showed me a tool of her nail art.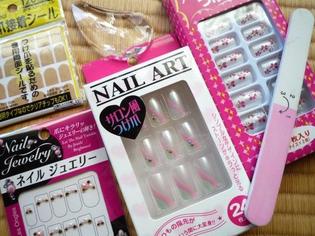 ←You can do

the gorgeous nail art

easily, you just have to put some
nail tips with decoration on your nail.
TOTTEMO KANTAN NI DEKIMASU.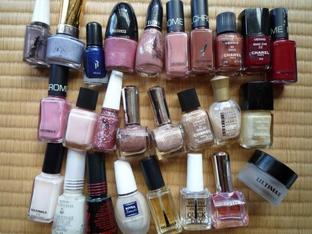 The manicure of various makers. →
Cosmetics maker releases a new color

every year when spring comes.
One around 1,000 yen.
I buy one or two of them every year, too.


WATASHI MO MAITOSHI 1KO KA 2KO KATTE IMASU.
Nail art such as the photograph


is possible when you use nail
tips which I introduced a while ago.
But, she likes to draw on her nail directly better,
it seems
more natural
for her.
YORI SHIZEN NA KANJI GA IINODESU.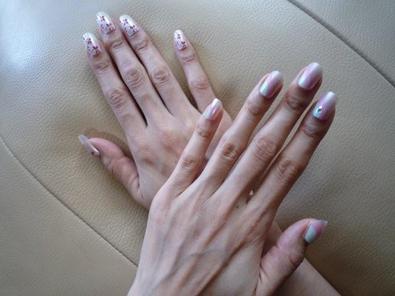 By the way, (TOKORODE)
in Japan, there is a nail salon at the most of big station

and airport.

Salon of any place is very clean

.
There are many woman visitors entering such a nail salon,
before getting on a train or while waiting for airplane at the airport.
Certainly, (TASHIKANI)
this is convenient, and it's good for the women
like me who do not usually go to the nail salon, too.
It makes me think that I want to enter the salon for the quick
nail change and for the time killing

.
An artist of the Japanese nail salon is very good.
From a simple practical nail to the decorations of the showy flamboyance nail, they can do your nail, anyway you want. Various requests are answered.
You've got to try Japanese nail salon, if you have a chance to visit Japan.
NIHON NI KURU KIKAI GA ATTARA, ANATAMO TORAI SHITE MIMASENKA?


Japanese Goods eBay Auction