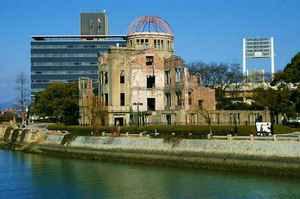 My hometown is Hiroshima city, that is already known by everyone who is regularly readers this blog.
Hiroshima city is the most famous city in the world. do you know why? 65years ago, an atomic bomb was dropped on Hiroshima city on 6th August for the first time historically in the world.
41 years ago my mother moved to Hiroshima city from Kobe city after she married, she has been felt that the town in Hiroshima was brutal when she compared it with lively, colorful Kobe.
There was still lot of shacks at everywhere and many people who was plundered their family and houses by the World War Ⅱ(atomic bomb).she was very sad when she knew it.
Today and 30 years ago when I was child,traces of atomic bomb can't be seen much.
On the contrary, it is difficult to pass on the thing of the atomic bomb to future because the radiation victims ageing and the generation which has not experienced war to increasing.
I usually forget about atomic bomb even I'm from Hiroshima, however I feel that it is necessary for a lot of people to inform reality still even a little when coming back to Hiroshima in every summer.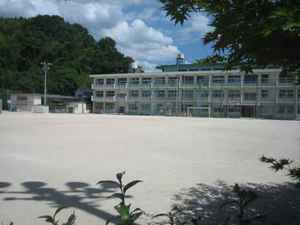 This is an elementary school which is from my parent's house in 5 minutes by car.
Many radiation victims carried to this elementary school away about 5miles from the ground zero after the atomic bomb dropped.
Neighbors remember the scene of the people, whole body was burnt and it was sore,nakedness, and a stream of people were walking with stick their hands out in front.
It was too late to do anything for them, and they died.
And, the person who died one after another was burnt at this elementary school.
A similar thing was done in not only this elementary school but also various places.
It is said that the river near the ground zero was thirsty by the whole body burn, and had been thickly buried by the corpse of the person who came for water.
When the atomic bomb dropped, my friend's grandfather was repairing the roof with his son.
They were exposed to radiation then skin of the body to melt instantly,and the calf of the legs and the thigh stick and not parted in the state of posture in which it squats down.
He cut peel of the foot that melted by the wire and he did the son the same thing then they got off on the ground from roof.
and next story from another woman.
When the atomic bomb dropped, she was 16 years old.
The indoor glass scattered with the explosion, the splinter pierced in her face, and it stuck.
Her parents desperately look for the doctor, and shards of glass are pulled out one by one and it applied an ointment so as not to suppurate, and gauze was pasted to her face but tear off gauze everyday, that was like a torture.
It was obvious that it was a radiation victim according to the facial scar then she was bullied by everyone,she couldn't spent wonderful time in her young days.
The atomic bomb is very cruel.There are a lot of cruel stories however I think it is insufficient in telling only it. Discrimination and prejudice after atomic bomb,these are ignorant.
In foreign countries, some people who thought end of the war because the atomic bomb dropped,but here is my opinion, that is human's arrogance.
A sad happening of the war is not only Hiroshima.
Today, the tragedy has occurred still all over the world.
I can't forget words from radiation victim,
''Once the war begins, unstoppable so do not it ever''
Generations of us who doesn't know the war try to know a past fact positively, and should aim at the peaceful world in any situation.