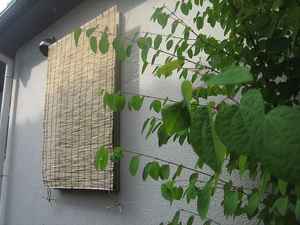 Here is my hometown Hiroshima city.
Yes, we were spending time with my parents this summer.
in Hiroshima, there is not wind in summer season.
I was surprised my parent's house!! because I could see how much they made every effort to save electricity.
Do you know what is it that hangs outside the window in the picture of the first?
All Japanese know it!!
That is ''Sudare''(bamboo blind).
This year, Japan needs save electricity so all Japanese doing something to save electricity by themselves.
''Sudare'' is very popular goods in Japanese summer for a long time.
It shade from the sun and very ventilate well.
When not using it, it can be roll up.
My dad hangs ''Sudare'' every summer but this year he did at there too!!! ↓↓↓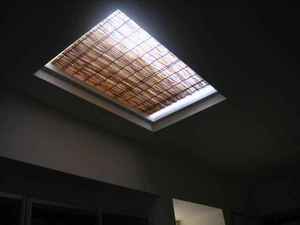 There is a skylight!!
My mom said ''It looks like seaside house,don't you think so?'' she likes it very much :)
and more, when I went to garden,
The first floor in the house part for the south is covered with "Yoshizu(reed screan)" almost completely.
"Yoshizu" is not the one hanging it on like "Bamboo blind", is using to put up.
It is possible to use it in a region like Hiroshima alone without the wind.
If I use it in Hamamatsu city, can't keep it all day because there is very windy place.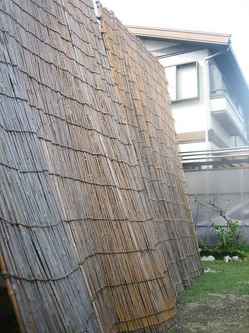 It is likely to look tight when covered with "Yoshizu" however the inside can't look from the bright outside and scenery on the outside can look from among the house that is the shadow.
That way is more cooler than hang the curtain and blind over a inside of the windows.
An old tool is made really well.
also my dad showed me his another idea which is ''Sudare'' and green curtain!! it is the plant!!!
He plans the climbing plats every summer, he is interesting it because the appearance where the plant grows up gradually is understood well and enjoy it.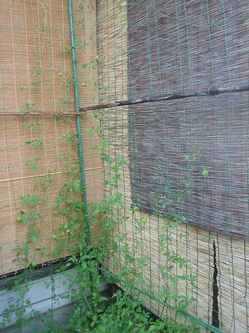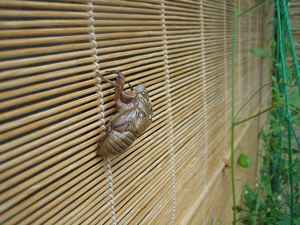 ohhhh, there is the castoff shell of a cicada!!!!
That is ''The summer''.
My house in Hamamatsu city, we put the awning.
He fit the house with it when the rainy season ends every year.
but one awning tore which we had, so we went some home center but sold out all shops.
we couldn't get new one.
Lot of people doing the effort that don't use air-conditioning very much at the home this year, that's why we couldn't find it this time.
It is very very good thing for earth, everyone should save the earth from the global warming!!!
Do it every year!!!
By the way, my dad prepared ''Goza''(a sheet of Japanese mat) for us can spend as be cool.
My 4years old son likes animation of the action hero, so he kicks everyone and everywhere.
His grandfather saw it then he made a original sandbag for his grandson!! it is the one that "Goza(mat)" and "Square cushion" were wrapped around pillar in the house.
Family's safety was kept by this.