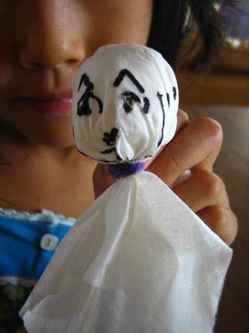 Do you know ''
henohenomoheji
(へのへのもへじ)''??
All Japanese know that.
The word uses into the seven Japanese Hiragana characters to draw face; ''he''→へ ''no''→の ''he''→へ ''no''→の ''mo''→も ''he''→へ ''ji'' →じ .
liken Hiragana to eyebrows, eyes and nose etc, face parts.
It is said that it was in fashion in Japan at the Edo period time.
The face mark(Kao-moji, called it in Japanese) likened with a face even in present-day Japan combining a character by mail of a mobile phone, etc. is often used.→
Kao-moji
Henohenomoheji may be able to called the originator.
The first of photograph's Henohenomoheji is written by my daughter as face of Teru-teru bozu ( a paper doll hung out the window with a wish for fine weather)
Once it memorizes,anyone can enjoy that it can write easily.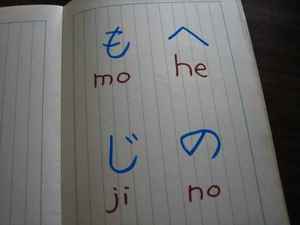 memorize just four characters of Japanese Hiragana ↑↑↑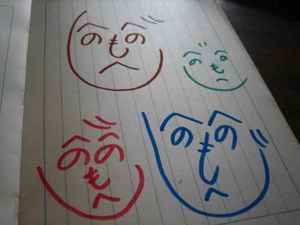 The expression of the face done by those who write is various.
It is possible to make the face of various by shifting the position of the Hiragana characters a little.
well, I am guessing the ''Henohenomoheji'' is male!! because Japanese male named with ''JI'' is many, for example ''Koji'', ''Heiji'' ''Yuji'' etc.!!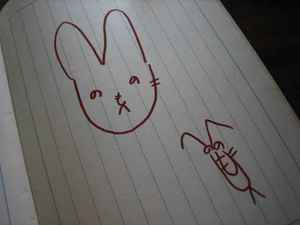 A character is deformed more and a picture like a "rabbit" and an "insect" can also be drawn.
Now, you try it!!!
and I would like to look at the "face mark" which combined the alphabet!!!
By the way, my blog's sponsor of Apis corporation develops, manufactures and sells the collar stiffeners. They have a new version of the printed design now on sale!! it is ''Henohenomoheji''.
Please check it their website!! →
Here
also enjoy the movies which are right side and top of the this blog. these are nice too!!!