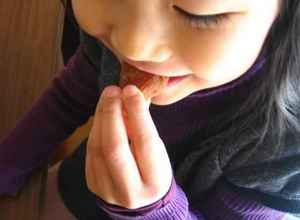 My daughter loves ''Hoshi-imo''.
Hoshi-imo is dried sweet potatos.
It is the best season to eating it while autumn to winter which dry season.
We can buy Hoshi-imo at supermarket but my daughter is saying the best is the green tea shop where is near by my house.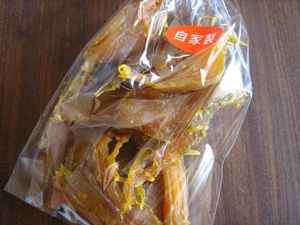 Hoshi-imo is made to usually dry with a drying machine but this Hoshi-imo is made with sun drying and all handmade.
We should call this tea shop and order the Hoshi-imo, then they call us when they made it!!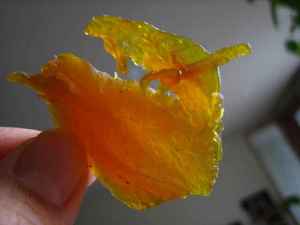 Look at this amber color!! ↑↑
amazing nature power isn't it??
That is just dried but taste is soooo good and very very sweet taste!!!!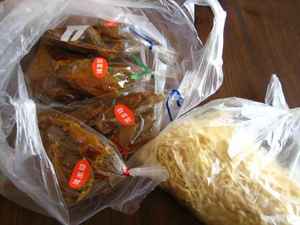 I bought lots!!! it is much better than junk snacks!!!
and tea shop lady said, ''you like Hoshi-imo very much!!? that is good for you!!! because this Hoshi-imo is very healthy!!''
also she gave us dried radish strips!! and she said ''this is good for you too''!!!
That is Japanese radish. cut it then dry. we call it ''Kiriboshi-daikon'' in Japanese.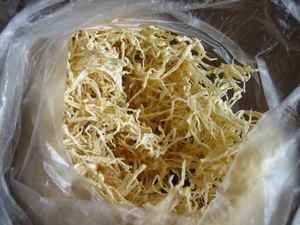 She said, try it!! that is handmade!! she put it in Miso soup every morning, because it is in rich iron!!
then I tried it!!! put in Miso soup!! that was very delicious!!
dried sweet potatos,→Hoshi-imo
dried Japanese radish..→Kiriboshidaikon
ohhhh, I have Hoshigaki(dried persimmons) at my house!!!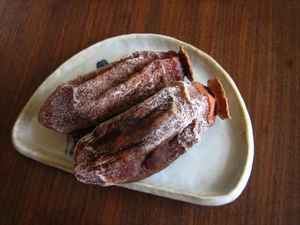 Do you like persimmon?
in Japan, we eat persimmon when it is hard, like apple or eat Hoshigaki.
Do you know how to make Hoshigaki?
use astringent persimmon, peel it and dries outside and makes it dried fruit.
That's all process to make ''Hoshigaki'' !!!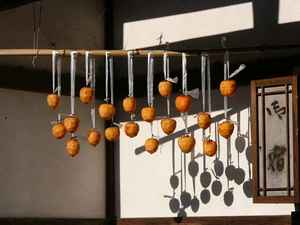 An astringent taste not only falls out, but only by drying, it becomes very sweet.
The method of preservation of "drying" is very simple, and wonderful that nutritive value also becomes high and becomes delicious.
In Japan, that of "drying food" is a little boom now and the net and basket for drying vegetables, fruit, and a fish are also sold.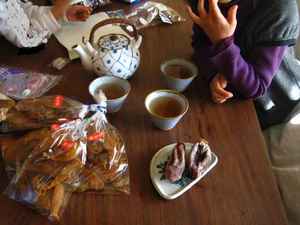 We had tea time with dried foods!!
We love this lazy and slow time:))