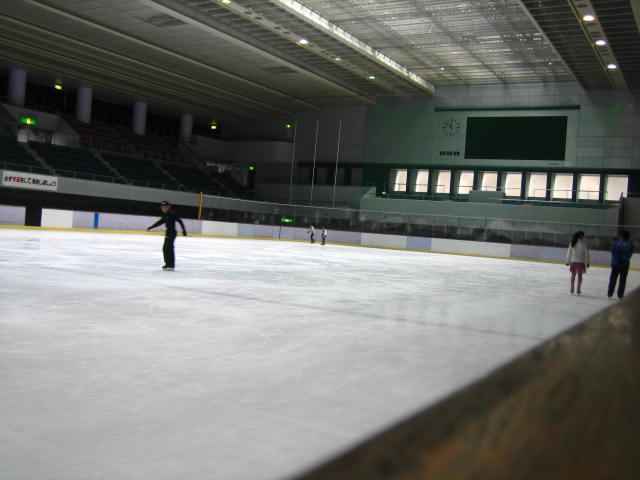 Are there skating rinks in your town?
In Japan, cities have skating rinks.
These rinks are mostly used as indoor swimming pools during summer, and as skating rinks in winter only, and many people at all age use them.
I had taken lessons of skating in my childhood.
Children like me are usual, (but basically girls are).
Some people take lessons of skating, and other people do skating as a hobby or sport.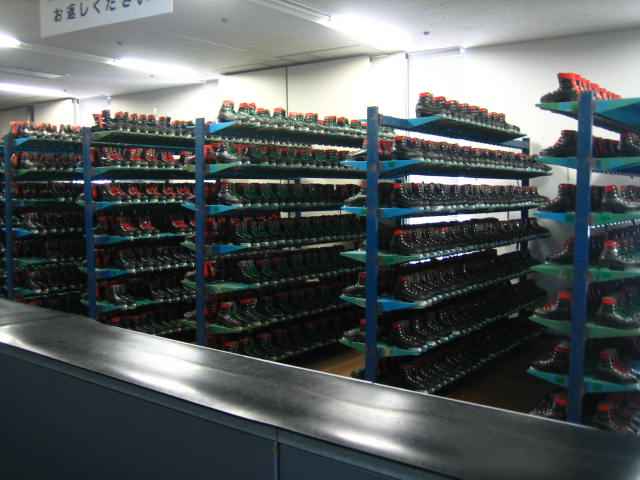 The total fee includes an admission fee and the rental fee of a pair of skates is about \1800.
Children pay half the price.
Is it a little bit expensive? , even Japanese think so.
But, it can't be helped.
Because the management fee of the skate rink costs a lot of money.
There is the place for renting a pair of skates, entering into the facility after buying a ticket, and then, you ask the employee to borrow them of own size.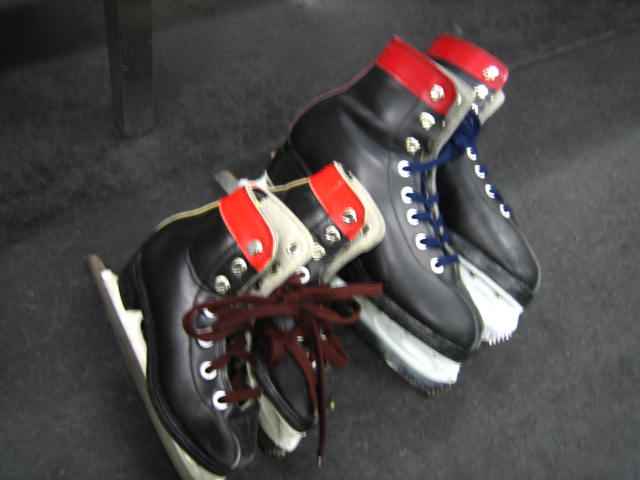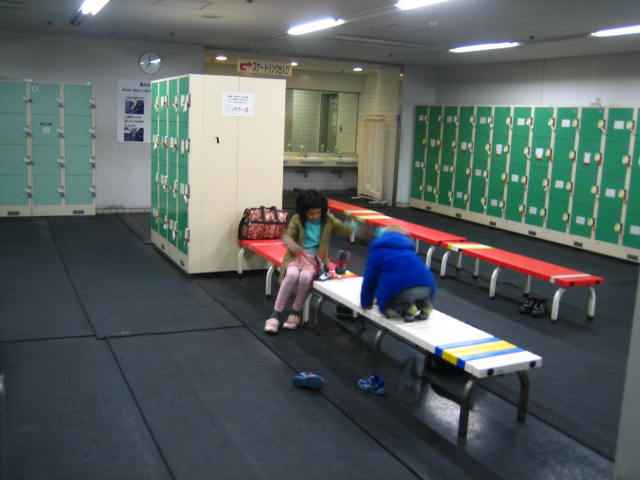 Change your shoes into a pair of skates in the locker room.
The facility is used as a swimming pool during summer, and this place is also used to change the clothes for the same reason.
Well, let's go to the rink.
I love this moment from my childhood upward.
The facility has two ice rinks, large and small.
Though those rinks were not crowded because of a weekday before noon, many families and couples dating come here during a weekend, and the rinks become be crowded.
The man wearing blue jacket on an above picture is a staff of the skate rink.
Actually, there are other staffs except him, and they skate and circle on the rink like a lifeguard.
They asked some people who can't skate if they need their help.
And, they also teach you how to skate if you ask them.
Of course, it is only a few minutes, but it is quite helpful.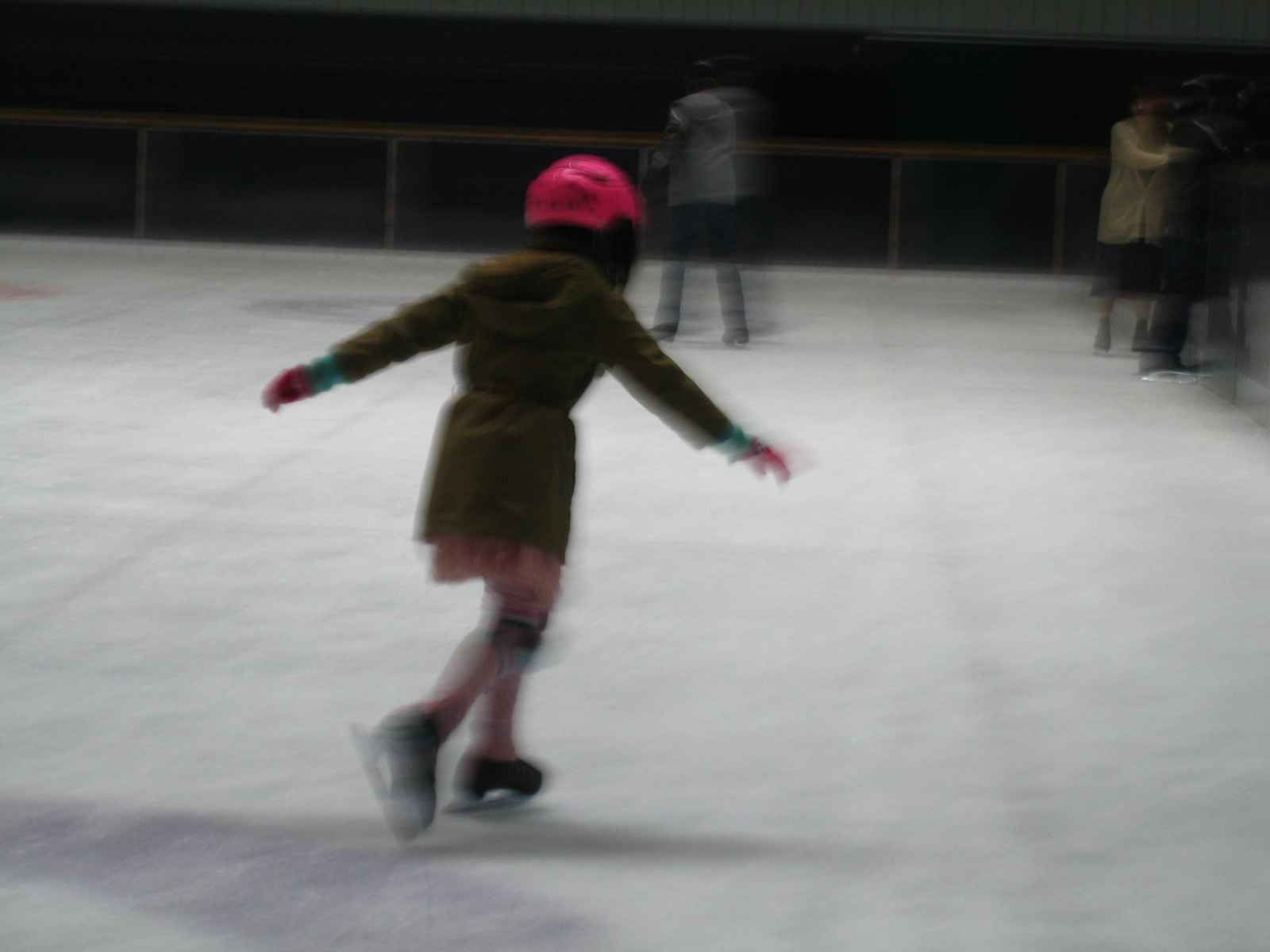 My daughter became a little bit better skater with their help, too.
She likes Mao Asada who is a Japanese skater, very much.
In Japan, skating has been popular from old years though, especially the resent years, skating becomes very popular because of the activity of young Japanese skater.
Some kids who learn skating seriously skated on the rink.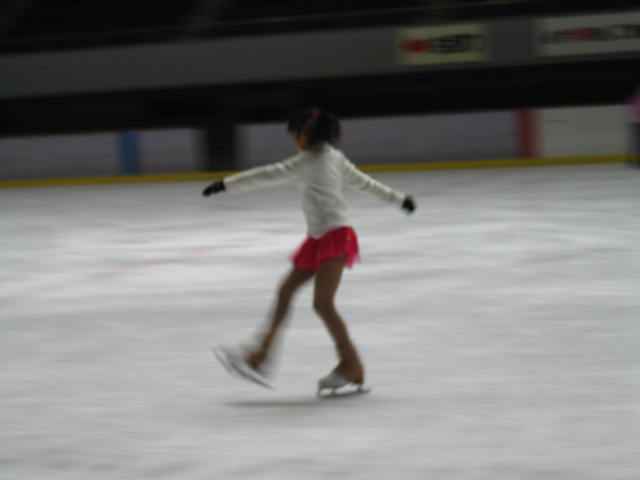 By the way,
An ice rink gradually gets many lines and holes, because many people skate on the rink and shave ice of it.
Then a staff keeps a rink in good condition with a special vehicle like a below picture a few times a day.
First, shave the surface of a rink, and next, sprinkle water on ice.
Then, the new layer of ice will be made.
This work takes about 20 minutes though; you will feel great to skate on the rink whose maintenance of ice was just finished!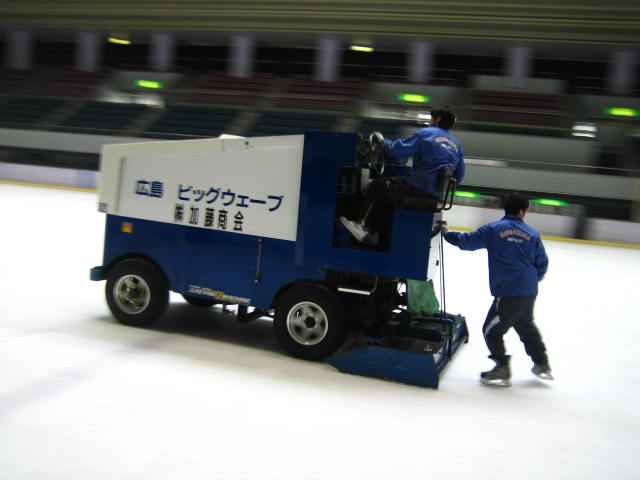 When I saw the rink and I found a message in Japanese; that means「Fight! Japan!」
I realized that such a message was hidden even here.