Today, I will introduce you 「Hamamatsu Museum of Musical Instruments」located by Hamamatsu station.
Hamamatsu city is where Yamaha and Kawai; manufacturers of musical instruments, originated.
「Hamamatsu Museum of Musical Instruments」has opened since 1995 as the first museum of musical instruments in Japan.
And various musical instruments, music, and culture of all over the world are introduced there.
It's my favorite place, and I take my friend here if she comes to Hamamatsu city.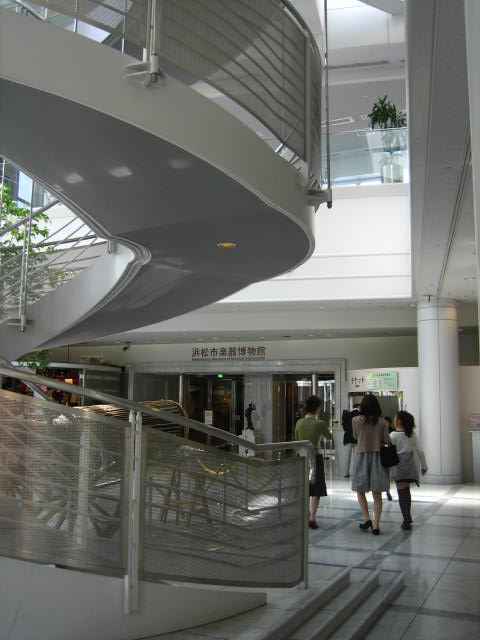 Entrance hall↑
The museum is a two-storied building, and the first floor is built under the ground.
A lot of instruments from all over the world, which include 300 pieces from Asia, 60 pieces from Africa, 200 pieces from the Americas, and 300 pieces from Europe, are exhibited here.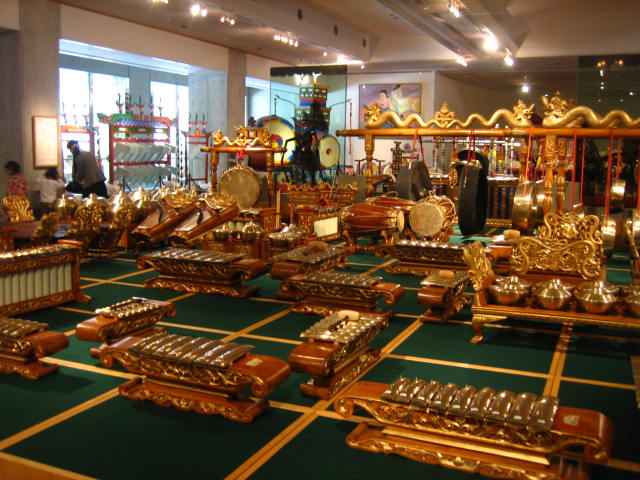 Then, what makes visitors fun is that they can listen to the sounds of those instruments through a headset. Those audition areas are in places.
Listening to the sounds of the instruments makes it easier to imagine the air or smells of countries where those instruments are from than just looking at them.
I feel as if I know the countries even though I have never been there.
Sometimes, people come to like instruments of other countries which they didn't know before because of this kind of feelings.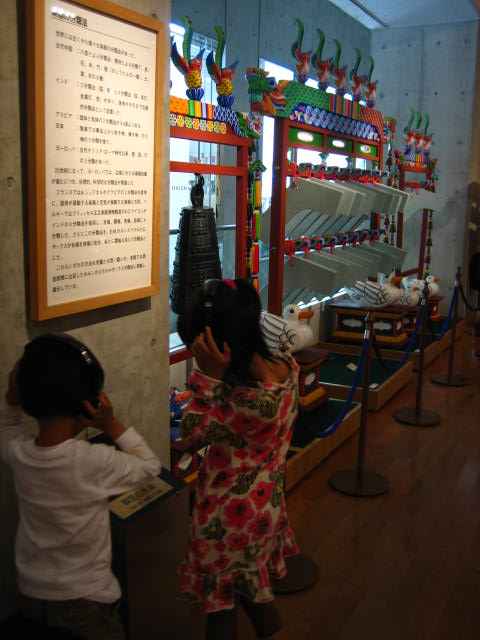 Well, here is the place I love the most, which is the exhibition space for pianos on the underground 1st floor.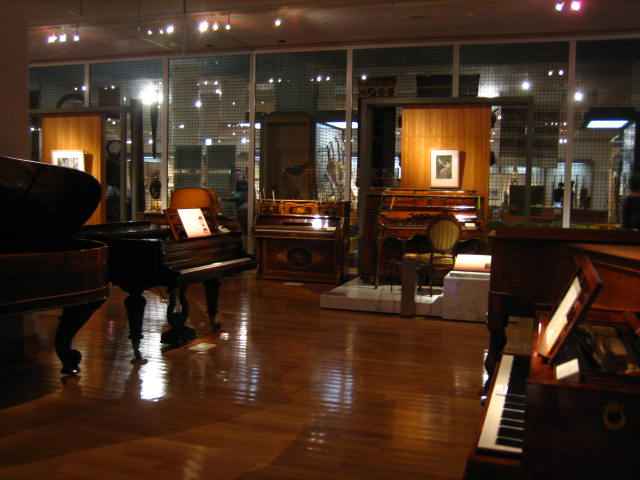 Keyboard instruments, such as cembalos, clavichords, organs, and pianos are exhibited here.
Cembalos that are performed in Paris in the 1700s and pianos that are performed in New York in the 1900s have not only beautiful tones but also have particular beautiful appearances as the furnishings.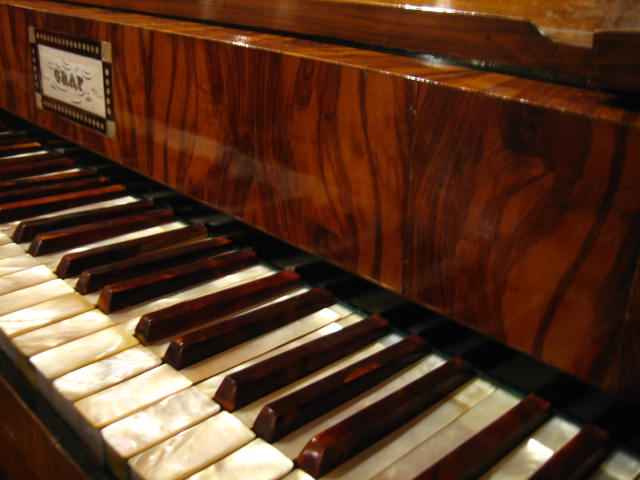 Workers at this museum explain about particular instruments and give a live performance a few times a day. I had a chance to listen to the story about pianos and pipe organs that are performed in the 1900s in the United States on this particular day.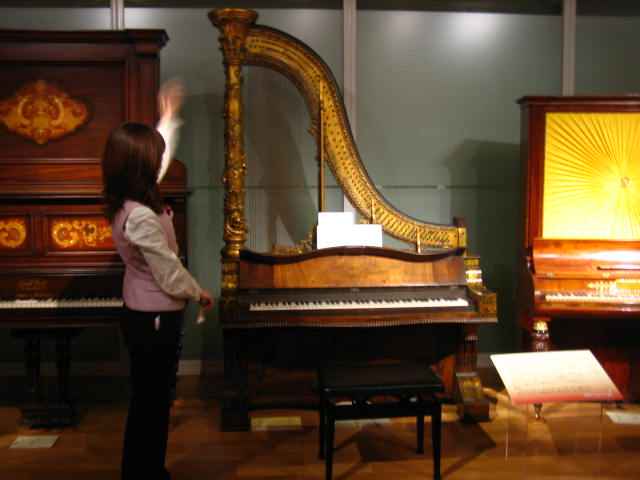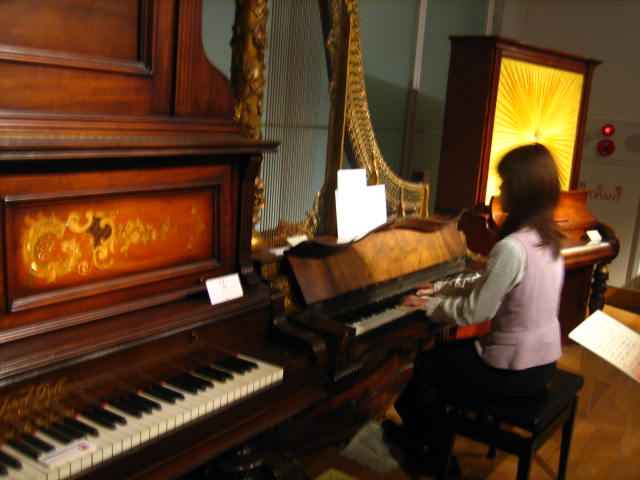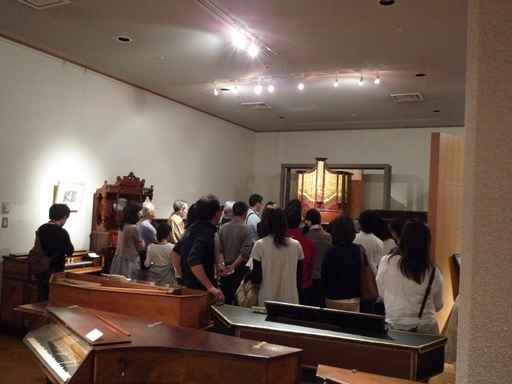 By the way, concerts of classic, jazz, and ethnic music are also held at this museum on the weekend's nights.
It costs about 1500 yen, but concerts here are much more fun compared to normal concerts. The distance between musicians and audience are closer; furthermore, the musicians give the audience some talk about the instruments.
I am sure there are some museums of musical instruments in the world.
I went to one in Brussels about 10 years ago.
Each museum has a characteristic of what it owns, and if I mention it for Hamamatsu Museum of Musical Instruments, this is it. ↓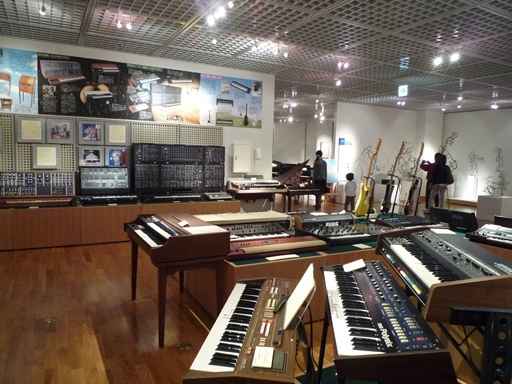 In Japan, domestic organs were developed in the Meiji period; then, domestic pianos were originated after that.
The place that happened was here, Hamamatsu.
YAMAHA pianos are still produced in Hamamatsu.
Old「organs with steps」and synthesizers are exhibited in the area where visitors can learn the 100 years of the instrument history in Hamamatsu.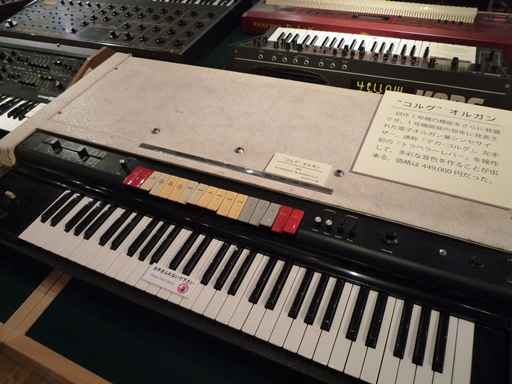 This is, ↑↑the first model of KORG(korugu) synthesizer.
(KORG is a manufacturer in Tokyo.)
The development of synthesizers, which can make various sounds, started in 1970s, and it evolved dramatically.
I'm familiar with the shape and color of the switch.
I think how it was made is cool now.
Finally, this↑↑is the YAMAHA grand piano which is made in 1950.
This was the first all -Japanese grand piano produced after the Second World War.
It was the time there was no goods......... I feel the spirit of the craftsman.
Hamamatsu Museum of Musical Instruments, where people who are not fans of music can still enjoy.
The admission fee is 400 yen for adults.
Why don't you visit here?