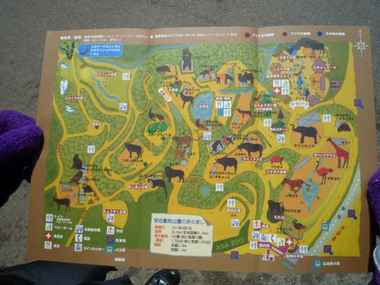 Coming into view first, it is a lock mountain for group of monkeys.
The zoo in Japan, there are such a lock mountain for monkeys. (We call ''Saru Yama'' it means monkey mountain)
Next is African elephant zone.
Asa zoo is famous for rhino breeding.
Today, it is not unusual that breed and to breeding wild animals which are the elephants, tigers and rhinos such as on the verge of extinction in a zoo all over the world.
I took this picture from the rhino terrace. ↑↑↑
Can you see a small rhino?? this rhino was born at this zoo.
they comes to by the side of you soon when you are at the rhino terrace.
There is a reptiles pavilion in Asa zoo.
Next picture is an appearance of reptiles pavilion's entrance. Cherry blossoms had began to bloom and it was beautiful that day.
I went to inside of the reptiles building there is pitch-dard・・・・・・no, its red inside.
They move very actively because there is the same as the pitch-dark for them that doesn't recognize a red color.
WOW, why they don't scary???
Was it not scary??
well, next is last one. it is '' Small zoo for kids''
When we joined here we passed a family. their father said '' this area was the most enjoyable spot for kids''
In Japan,not many ranches and the stock-raising industry is not active,so there is no chance to touch big animals in their life. Therefore, many kids are confused to the pig,cow and chickens when they face to them.
There is a brush for goats and pigs, so people can brush them. they looks so comfortable when they are brushed.↓↓↓
There is a lot of tools to clean their faeces,and kids clean it with pleasure.
This space is for chicks which have just been born.we can't touch them but only seeing.
The newborn rat spend time to sleep mostly, ten days after birth they stock to their mom's breast, like this ↓↓↓↓
Human being bright her/him from faraway countries and places then small caged・・・・・.
I have thought that the living thing in the zoo is poor. However, my mind that image of zoo changed a little bit after came to the zoo this time.
Asa zoolozical park ticket, adult 500yen, student 170yen and under the 5years old is free.
Is this an amount of money that can't drink a glass of coke at the cafe in Paris? I guess.