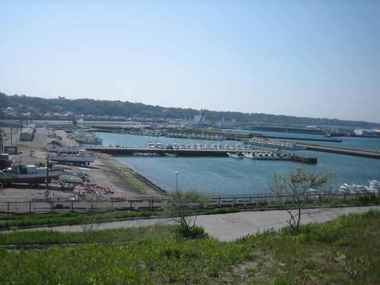 Last weekend, we went to Omaezaki where take about one and a half hours from Hamamatsu city using highway.


There is some ports in Shizuoka prefecture,Omaemzaki is the most closest and bigger port from Hamamatsu city.
It takes about just one and a half hours from my city,so we though why don't we have a delicious fish foods now!! then we headed to there before noon

.
(above photo is Omaezaki port

)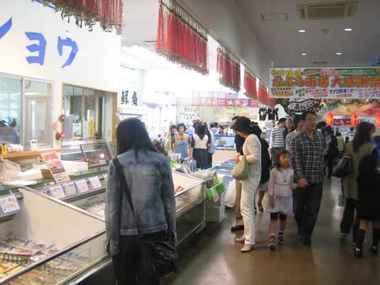 Some fish markets in the port.
Every weekend many people coming there.
The ports in Shizuoka, for example Yaizu, Numazu, Shimizu and Omaezaki are strong on the ocean fishery.(pelagic) of tunas and skipjacks(bonitos).

''skipjack'' is ''Katsuo'' in Japanese.
When you go to Sushi restaurant, Sushi is expensive isn't it?? but you can buy cheaper and more fresh fish's Sushi at the like this fish market.

The fishes which color of orange are Splendid alfonsino, these are famous too.↓↓↓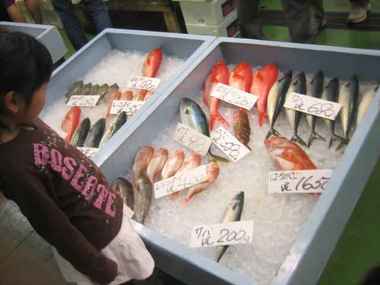 That fishes are skipjacks↑↑↑↑

In Japan, it is said '' first skipjack''(Hatsu Katsuo=Hatsugatsuo) is really delicious,that season is spring when blooming cherry blossoms.

If you miss that season, don't worry, the second season is coming in autumn for skipjack.

we call it ''Modori Katsuo=Modorigatsuo) this means came back skipjack.
Japanese people like Katsuo's Sashimi(raw fish) or Tataki,its taste like marinated in vinegar, soy sauce and ginger base.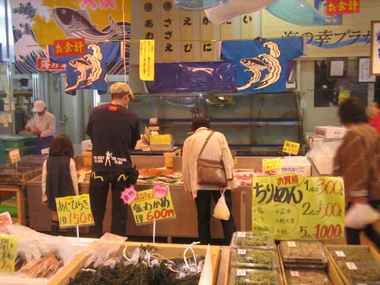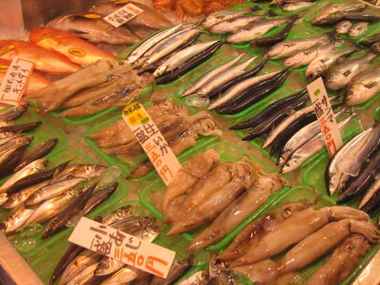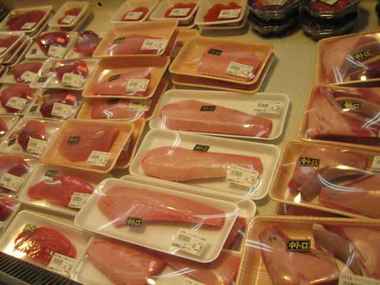 We bought a packed of tunas.↑↑↑↑
Tuna(Maguro) has different name of parts,''Otoro''(fatty tuna), ''Chutoro''(medium fatty) and ''Akami''(red meat) also these are different taste. I like Chutoro.

a packed of Tuna is about 700 yen, that can eat plenty by two adults.

We ate it which we bought one that night, was really delicious. yum.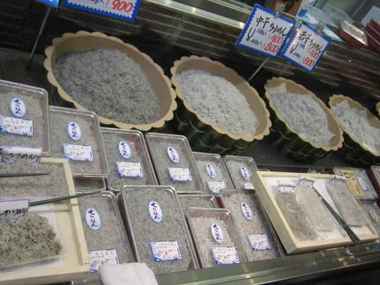 Tiny Tiny fish is the young of sardines(Shirasu in Japanese). these were hauled at the Omaezaki.
In most cases, Shirasu is sold after dried under the sun but can be eaten raw if it really really fresh one.
well, I wrote long preface

....Do you remember this time's purpose to be Omaezaki??
Yes, for lunch!!

finally we found a restaurant then have lunch.

Kids ordered ''Shirasu Don'' (a bowl of boiled Shirasu, rice is under the Shirasu)and topping is Ikra.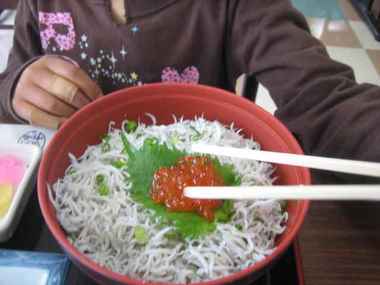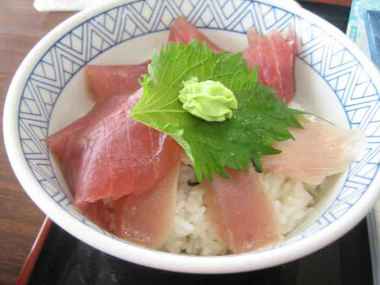 I choose ''Maguro Don''(a bowl of raw tuna).both bowls were with miso soup and about 1200 yen each.
after ate them, my husband said to me '' I found take out section of Maguro Don(a bowl of raw tuna) and it looks yummy also, don't we have another one?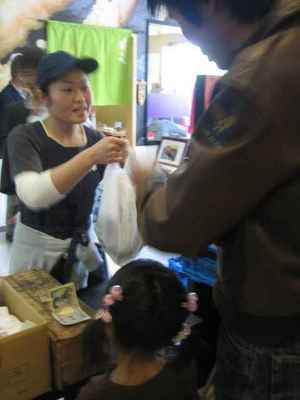 We had another lunch

.........bought Shirasu don and Maguro don again but these are cheaper that before. 500 yen each.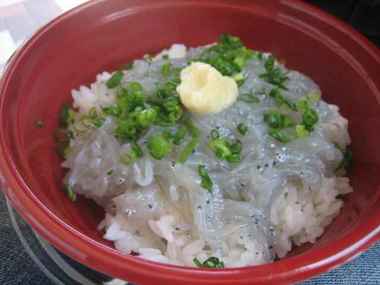 My husband choose raw Shirasu Don ↑↑↑
mmmm raw Shirasu..... kids and I don't like it but some people really really like it.
I choose ''Negi toro Don'' ,this is minced Maguro(tuna) and green onion then put soy sauce.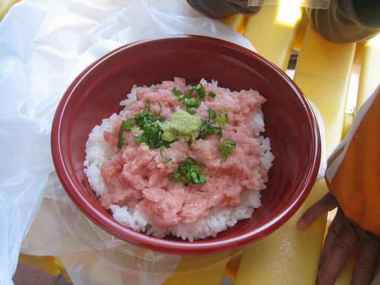 There is Gelato ice cream shop in the fish market.
They have Shirasu flavor

.....Shirasu,yes the young of sardines

...can you believe it?and try it?
and the other flavor is Macha(green tea) and Wasabi which is special product in Shizuoka. of course they have common flavor too.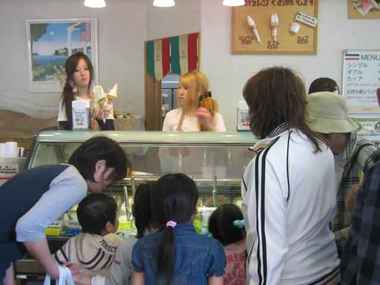 My courageous daughter said ''I will try to have a Shirasu flavor''

while we were in the line.
however, she changed her mind just as she was ordering, she ordered Strawberry flavor

.
I know, it is hard to have Shirasu flavor gelato....