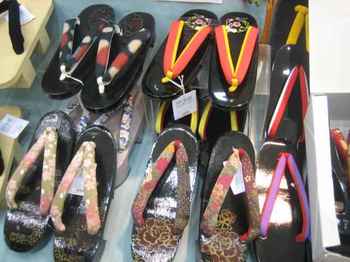 When I went shopping in the department store, I found a shop of Geta(wooden clogs) at the specially-installed hall of the first floor.
Geta is Japanese old footwear and used to wear them with Yukata and Kimono.
Today, people don't often wear Yukata and Kimono,so people don't wear Geta either very much.
However,that was only my opinion.I though people need Geta when they go out for summer festival.
Now, changed the world in Japan, Geta is very popular!
Most young people wear Geta instead of sandal with their fashion of casual style.
It is health for foot because can move freely toes and various designs of Geta, that's why people have enjoy waring Geta today.
My daughter put on her Geta everyday, she is fashionable now.
When my mother was child,the most Japanese people had already put on shoes though the custom of putting on Geta had remained for about 50 years ago since now.
Therefore, ''I am a Japanese'' but Geta is footwear of the another world and special thing for me.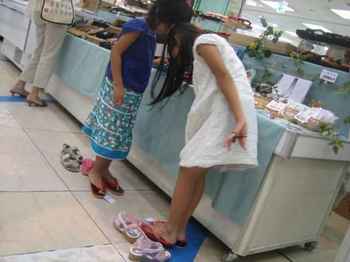 Fashion and life is cycle,so now children likes Geta.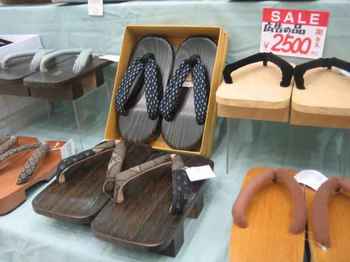 These Geta are for male.↑↑↑
The part like the string is called ''Hanao''.
We can find out that look for the person's sense by the grain of Geta and those who choose about Hanao.
Such footwear might be better because it is a high temperature and humidity in the summer of Japan in reality.
But for adults are not good to wearing Geta because can't drive a car while wearing Geta.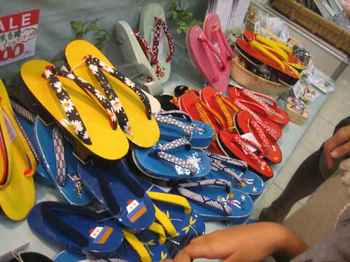 These are for children.
It is handmade for children and for adults.
They have many various colors.
I want to decorate the very lovely Geta which is the smallest size with clogs for children.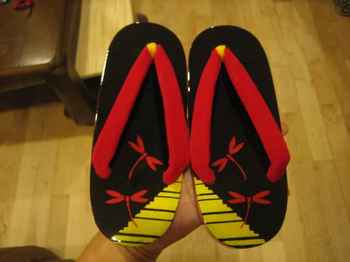 My daughter choose this one and we bought them.
mmm, clasic.
I recommended her it:though Geta and Hanao were one like sandals of the pink color.
But this classic design might have been fresh oppositely for her, I think.
We should do not trample down child's pure sense of beauty in an adult preconception.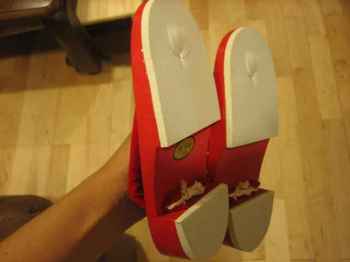 Newly Geta is more walkable and they have put rubber to do not slip.
My daughter is saying, Geta is comfortable to walking.
Actually, when the lower body strongly becomes healthy because it moves like gripping ground by digitus pedis with every step,so some kindergarten and elementary school recommend students put on Geta now.
The foot of the child who put on Geta thinks it is free and simplicity, and is lovely.