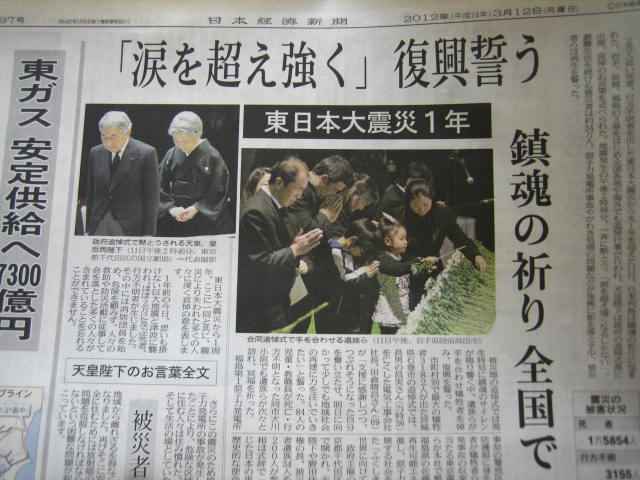 It has been a year since the Great East Japan Earthquake occurred.
I have received many messages from people overseas reading my blog.
I deeply appreciate your support for us.
On the other hand, I think many people care about how about our present life is.
Today, I report the present situation of Japan as just a housewife living in Hamamatsu.
First, yesterday, March 11th, just a year past since the earthquake, the news about the earthquake was reported all over the country not only by the newspapers but also on TV all day.
The ceremonies for the victims died by the earthquake were also held all areas of the country.
The number of deaths and missing people are 20,000.
I who was living a life as usual got nervous, when it was around 2:46, which was the exact time that the earthquake occurred last year.
Even my daughter said that she wanted to let them know before the arrival of tsunami, if she could time travel a year before.
It is so cruel that nobody can be aware of a tragedy until it occurs.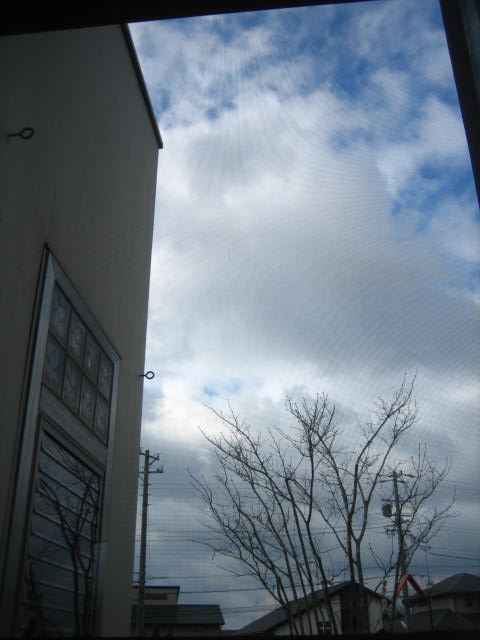 And yesterday was very cold like just then.
The snow fell unusually in Hamamatsu.
It reminded me of the earthquake because of the weather like that day's.
I have always heard a word "reconstruction" every single day since last year in Japan.
I often see other words,「Cheer up Japan!」,「Ties」,and 「Support」, too.
I feel ties among Japanese have been united because of the earthquake.
But, on the other hand, we have serious problem now.
we cannot manage「rubble」that is left in the areas which were hit by the tsunami.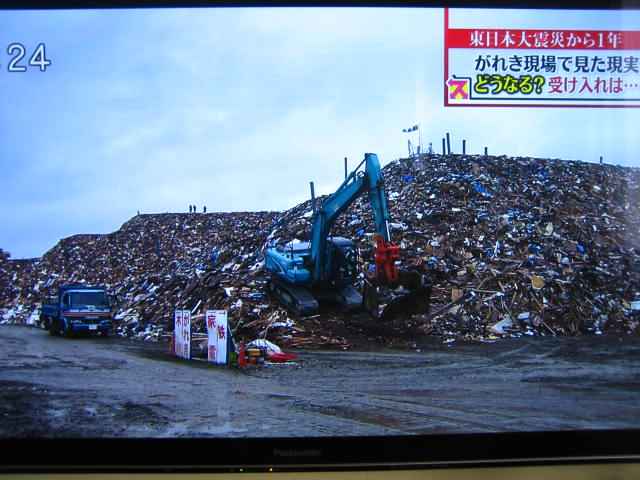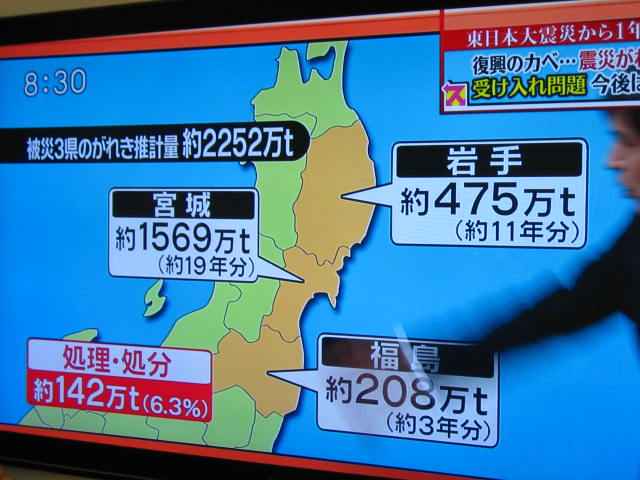 The total amount of rubble is 22,520,000 tons,
and we only finished about 6.3 % of the disposal.
It's impossible to dispose all locally; therefore, we must transport lots of the rubble to Tokyo or Shizuoka, and other such places to dispose of burning there.
But it is difficult to make plans to do it, because some people don't want to accept it.
The rubble that may includes radioactivity.
That's why they don't want to accept it.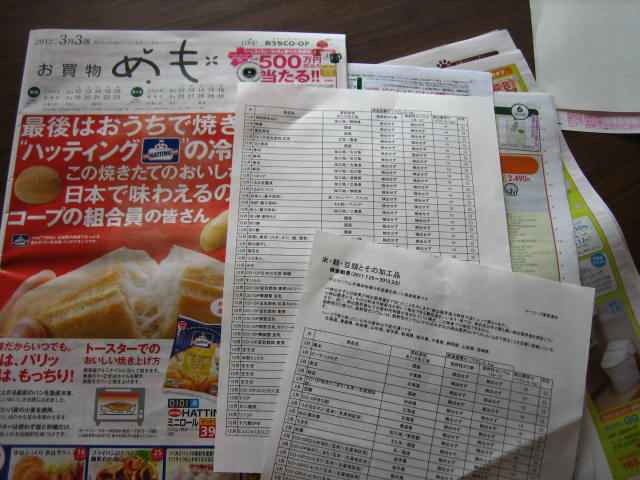 This is a food catalog of co-op I order every week.
After the earthquake, a copy is enclosed with it.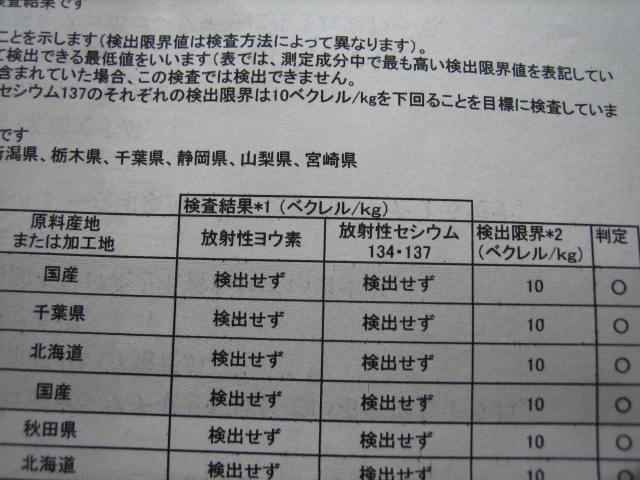 It is an inspection report whether the foods contains radioactive substance or not by coop actively, and the data shows that it is not contained into rice, vegetables, fruits, bean curd, and meet.
When I went to my daughter's elementary school,
a woman who has a child got the teacher to explain whether all ingredients of meals are inspected or not.
Some people especially care about that kind of things, I think.
I don't mind it. (Because I am concerned about chemicals and food additives not only it.)
As well as the problem about rubble, if Japanese government could show correct information to the public after inspection, and dispel a general feeling of unrest, Japan would be quickly reconstructed.
If a year since the earthquake is compared to be haplessly, sad, and puzzlement, the next year is the time to take a step forward with all Japanese power that they have all.