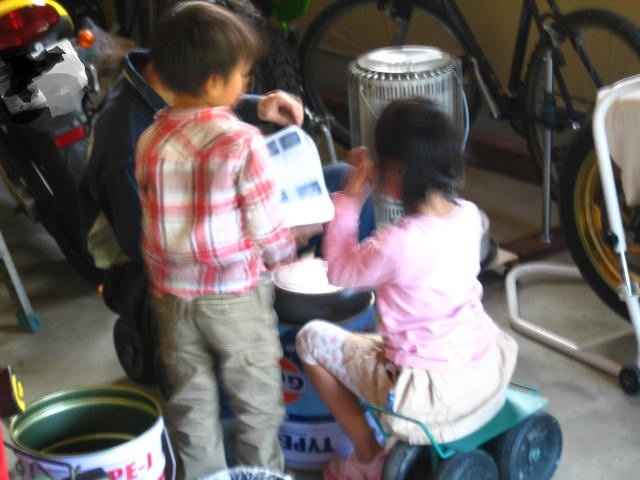 The end of April and the beginning of May are holiday season in Japan.
It is called "Golden Week" or "A Long Holiday", and schools and companies are closed for this period.
Besides, many events and festivals are held every each place.
The Golden Week consists of the national holiday, and week end.
Then, the days of the holiday are different by each year.
In case of this year, holidays are ...
April 28-30th and May 4-6th.
(Some people traveled abroad, because of they took days off for 9 days included May 1-2nd)
Most of places are crowded for the period.
My family usually gets close to nature around our house, and doesn't take a trip.
It's our usual schedule of the Golden Week.
But, this year we tried to do something different.
We tried to smoke some foods.
Smoking is a one of the way of processing that strengthens the flavor and gets them to preserved foods by smoke.
Though a smoking device was sold, my husband made it with big cans.
The first picture shows him and our children, and he explained how to make it to them with the blueprint.
Our children are not interested in it.
.... It's the picture that shows the mood.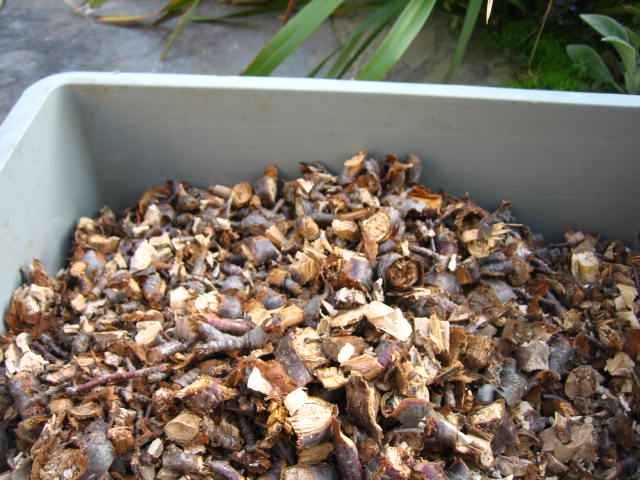 These are many chips of cherry blossom's wood picked at the mountain nearby, and they are crushed by a grinder.
I think many people know the fragrances of smoked foods are different using various kinds of wooden chips.
The cherry blossoms' fragrance is good.
Usually, people buy wooden chips for only smoking.
I wonder if I can use the wooden chips that we made.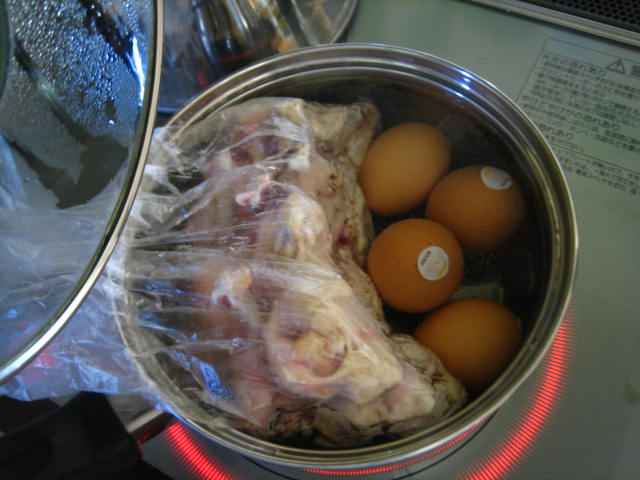 If we master the way of the smoking, we could make bacon and ham.
But, we were all amateur, so we smoked only something easy.
For instance, we smoked eggs, sausages, chicken on the bone, cheese, been curd, cod roe, and salmon. (The picture shows boiling chicken and eggs)
While I was ready with foods...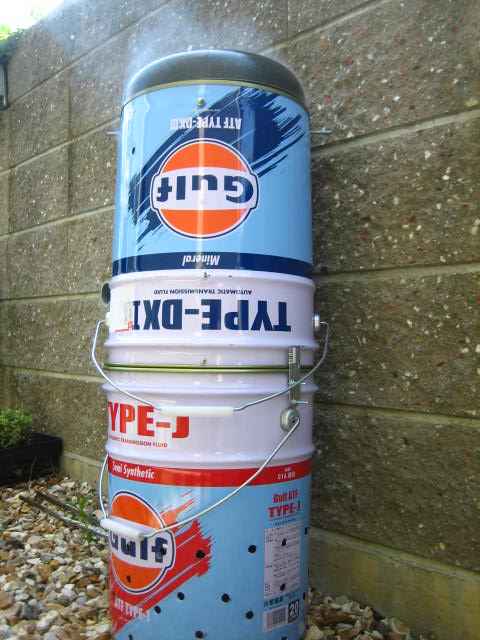 Ta-da!
Our smoking device was finished.
We made a fire with charcoal on bottom of the lower can, and put wooden chips on it.
The smoke rose to the upper can.
The device can be put two wire nets inside of those two cans, and we put foods on them.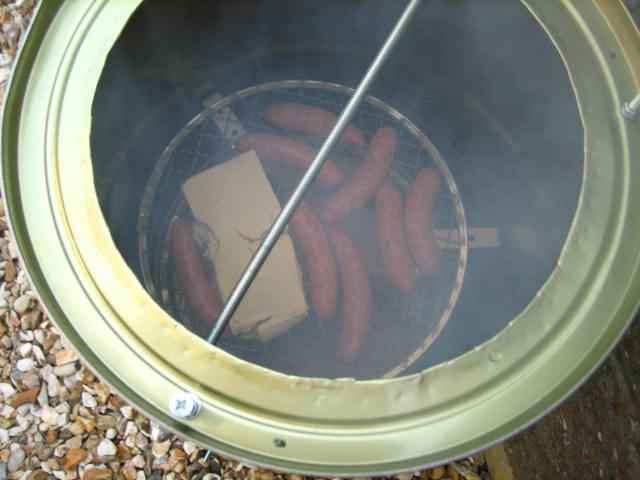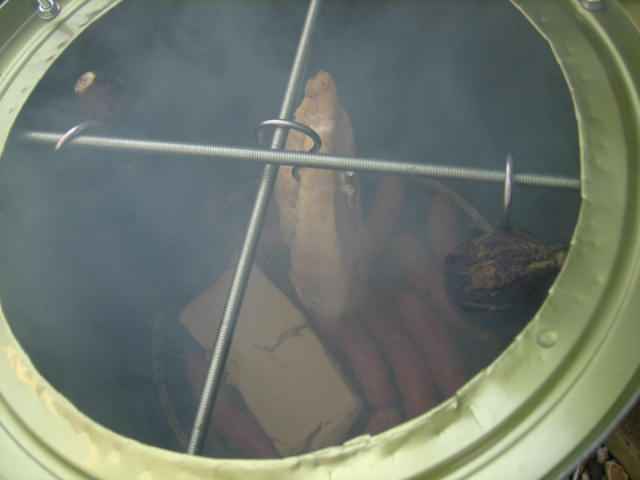 Furthermore, we can also hang foods.
Because smoking takes around 2 hours, we made the device with three-way to smoke a lot of foods at a time.
We're greedy.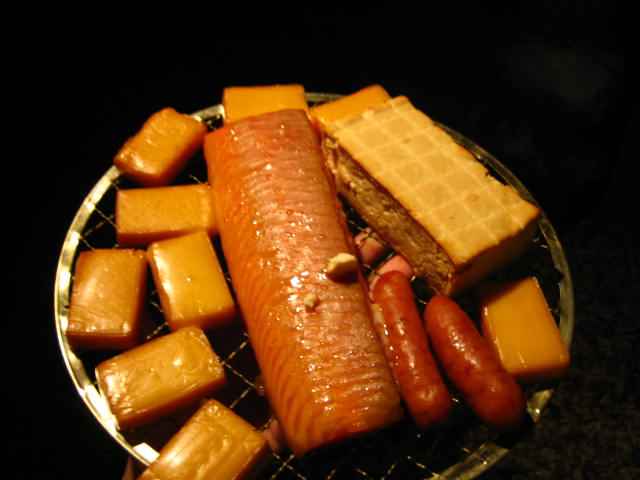 Smoking was finished when we were about to eat dinner.
We could smoke well even it was our fist time.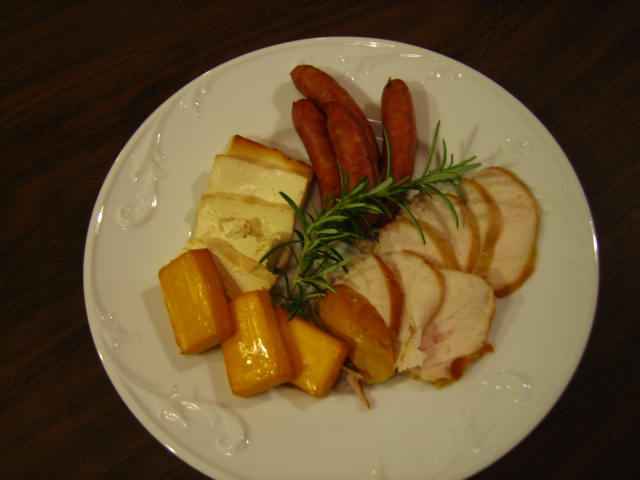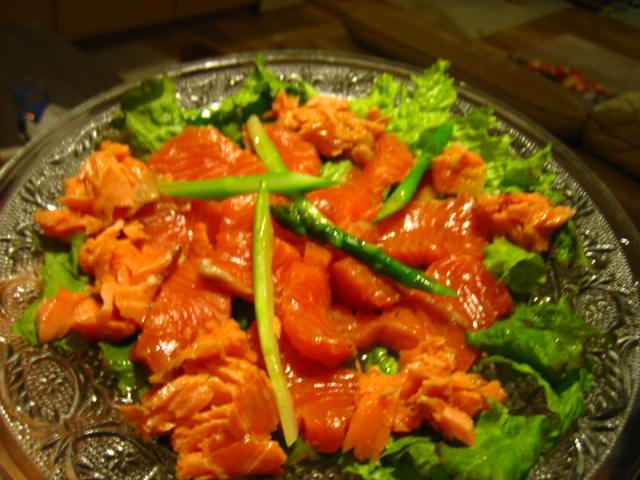 We don't have a long holiday until summer vacation after Golden Week.
Today is the last day of the Holiday...
If adults and children think about it , they all get disappointed, but still, let's try again~!!
Japanese Goods eBay Auction